This is an archived article and the information in the article may be outdated. Please look at the time stamp on the story to see when it was last updated.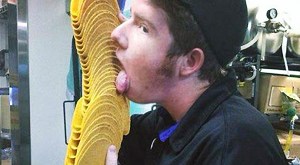 RIDGECREST, Calif. (KTLA) — Taco Bell was investigating a photo Monday posted to its Facebook page of what appears to be an employee licking a stack of taco shells.
The company said they were certain the photo was a prank and that the taco shells were never served to customers.
"We're currently dealing with it," Cathy Marx, the manager of the Taco Bell in Ridgecrest., Calif. told CNBC in a brief interview.
Taco Bell declined to specify whether the employees behind the photo were fired, but did issue a statement to CNBC.
"Nothing is more important than the safety of our customers and team members, and we have strict food handling procedures and zero tolerance for any violations," a company spokesman said.
"When we learned of the situation we immediately contacted this restaurant's leadership and although we believe it is a prank and the food was not served to customers, we are conducting a full scale investigation and will be taking swift action against those involved."