This is an archived article and the information in the article may be outdated. Please look at the time stamp on the story to see when it was last updated.
A crude oil fire is burning in a semirural area between Santa Paula and Ojai Friday morning, and Ventura County firefighters and a hazmat team are responding.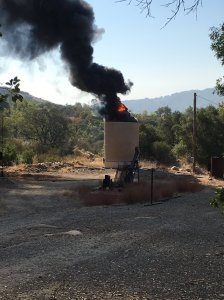 The fire was reported at 8:35 a.m. in the 12700 block of Santa Paula Ojai Road, according to the Ventura County Fire Department's list of active incidents.
Fire Capt. Mike Lindbery said the tank may be holding up to 42 barrels of crude oil, or about 1,700 gallons. The department's website initial said 4,000 to 5,000 gallons of petroleum were burning.
Lindbery said the storage tank had exploded and the flames were a threat to surrounding brush. The tank is 12 feet in diameter and 15 feet tall, he said on Twitter.
Two workers who were nearby when the explosion occurred were injured, but they were treated on scene and released, Lindbery said.
Smoke rising from the fire could be seen from miles away, video from Sky5 showed.
Firefighters planned to let the oil burn down while monitoring surrounding brush. A hazardous materials team was on site.
#TopaIncident Product is crude oil. Firefighters letting product burn down while monitoring nearby brush. @VCFD pic.twitter.com/GM1KFKx9zL

— VCFD PIO (@VCFD_PIO) August 5, 2016
#TopaIncident #PetroleumFire Heat reaching water at the bottom of the tank causes a "boil over" flaring up the fuel. pic.twitter.com/CXZWMeD0l1

— VCFD PIO (@VCFD_PIO) August 5, 2016
#TopaIncident @VCFD Crash 50 extinguishes ground fire and cools tank after boil over. FFs checking brush for heat pic.twitter.com/L4UoU3mANZ

— VCFD PIO (@VCFD_PIO) August 5, 2016