This is an archived article and the information in the article may be outdated. Please look at the time stamp on the story to see when it was last updated.
ELYSIAN VALLEY, Calif.  (KTLA) — There was relief for commuters on Tuesday, as Caltrans reopened both sides of the 5 Freeway near the interchange with the 2 Freeway.
A fiery tanker truck crash on Saturday forced the closure of all northbound lanes of the 5 at the transition to the 2, as well as some of the southbound lanes.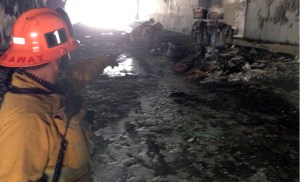 All lanes of the northbound 5 reopened at 11 p.m. on Monday, according to a news release from Caltrans.
By 5 a.m. on Tuesday, all of the southbound lanes had also been reopened.
Only the transition tunnel from the northbound 2 to the northbound 5 remains closed indefinitely, officials said.
"We will continue working until we can open as many lanes as we can safely," Caltrans spokesman Mike Miles said on Monday.
"The fire did some extensive damage to the tunnel, therefore it's requiring quite a bit of work and investigation," he said.
The crash happened around 10:30 a.m. on Saturday, when a tanker carrying 8,500 gallons of gasoline blew a tire, officials said.
The truck crashed and overturned inside the busy tunnel at the interchange of the 2 and 5 freeways.
A fire soon broke out, fed by the tanker's thousands of gallons of gasoline.
"In my 24 years, I've never seen damage to that extent," LAFD Capt. Alicia Mathis said, describing the remnants of the burned tanker.
The overwhelming heat from the fire vaporized the vehicle, metal frame and all.
The driver of the truck sustained some injuries, but was expected to be OK, authorities said.
Officials were taking steps to ease the congestion on side streets as a result of the freeway closures, City Councilman Tom Labonge said.