This is an archived article and the information in the article may be outdated. Please look at the time stamp on the story to see when it was last updated.
Both directions of the 15 Freeway were initially closed north of Lake Elsinore Tuesday afternoon after a gasoline-carrying tanker truck caught on fire, sending flames and smoke into the air.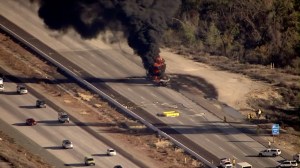 The fire was reported at 1:07 p.m., according to the Riverside County Fire Department. The truck was carrying an estimated 8,700 gallons of gasoline, the department said.
A SigAlert was issued at 1:09 p.m., with both sides of the freeway closed, the California Highway Patrol said on its traffic incident website.
Northbound lanes were reopening about 2:45 p.m., and the No. 1 southbound lane reopened about 4:30 p.m.
Caltrans hoped to reopen the No. 2 lane before dawn and the No. 3 lane shortly after that, according to Terry Kasinga with Caltrans.
The truck burned between Lake Street and Nichols Road, on the right-hand shoulder, aerial video from Sky5 showed.
The driver escaped the vehicle, CHP said.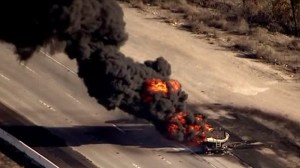 A blowout in the rear tires started the flames, which the driver tried unsuccessfully to extinguish, Riverside County fire Capt. Lucas Spelman said.
No nearby vegetation appeared to have ignited. Crews had cut a line around the burning truck, the captain said.
Because of the potential impacts of fuel seeping into a nearby waterway, firefighters determined it would be safer for the environment to allow the fire to continue to burn, Spelman said.
As of 6 p.m., traffic was backed up for more than 10 miles, nearly to the 91 Freeway in Corona.
A driver told KTLA she had been stuck in traffic for more than four hours, and after a lifetime in Southern California had never seen anything like it.
"It's a nightmare. And it's too bad it has to happen at rush hour on a weekday," she said.
#LakeIncident Photo Credit April Newman pic.twitter.com/7uK5roZ70W

— CAL FIRE Riverside (@CALFIRERRU) December 1, 2015