This is an archived article and the information in the article may be outdated. Please look at the time stamp on the story to see when it was last updated.
Tara the cat, made famous in a YouTube video that shows it saving a 4-year-old boy from a dog attack in Bakersfield, has been tapped for another duty: throwing the ceremonial first pitch at a local minor league baseball game.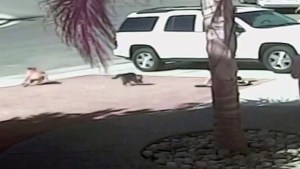 Video footage of the cat ramming into and then chasing off the next door neighbor's dog as it attacks the boy's ankle went viral this week after it was posted by the boy's father, Roger Triantafilo. Since then, Tara the cat has become a local hero, and will do the honors — with an assist from the Triantafilos — at a Bakersfield Blaze game on May 20.
Caught on what appears to be security surveillance video, footage of the incident has racked up millions of views on YouTube within the last few days. It starts with the dog wandering near the family SUV in the driveway where 4-year-old Jeremy is riding his tricycle. A few seconds later, the dog suddenly comes around the SUV and attacks Jeremy's ankle, pulling him from the bike.
Within seconds, Tara the family cat sprints into view and rams into the dog before chasing it away from Jeremy.
Click here to read the full story from LATimes.com.
It's official! Local HERO CAT will be throwing out a first pitch on Tuesday, May 20th! @TheHeroCat

— Bakersfield Blaze (@BakoBlaze) May 15, 2014
If you haven't heard yet, I will be throwing out the first pitch at the @BakoBlaze game May 20. Can't wait!!!

— Hero Cat (@TheHeroCat) May 15, 2014