This is an archived article and the information in the article may be outdated. Please look at the time stamp on the story to see when it was last updated.
LOS ANGELES (KTLA) — Target is apologizing for labeling a plus-size dress in a way that some customers criticized as offensive.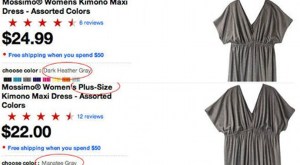 The product in question is a Mossimo plus-size maxi dress that was described as "manatee gray" on the Target website.
Meantime, a smaller, similar dress was labeled as "dark heather gray."
Customers took to Twitter and Facebook, generating enough backlash to elicit an apology from the retailer.
"We apologize for any discomfort this might have caused and are working to update the name of the dress to reflect Dark Heather Gray," Target told Forbes.
"This was an unfortunate oversight," the statement added.
Target added that many of its products — across a range of categories — are labeled "manatee gray."
In the case of the dress, there were two different teams of buyers involved, and they didn't communicate when picking color names.