This is an archived article and the information in the article may be outdated. Please look at the time stamp on the story to see when it was last updated.
Police released a sketch Wednesday of a woman with distinct tattoos they believe recently entered at least two homes in Mission Hills.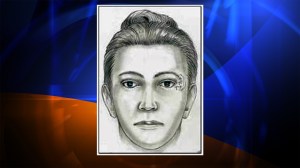 The prowler hit homes on the 15400 block of San Jose Street and the 14500 block of Peach Avenue on Jan. 12, according to the Los Angeles Police Department.
"She's pretty bold, walking into open garages during the day," Lt. Paul Vernon, the commanding officer of the Mission Detective Division, was quoted as saying in a press release.  "If she's unchallenged she goes into the home and takes the first thing she sees."
The woman was believed to be in her 20's and has a tattoo of stars and a crescent moon next to her left eye.
In one case, the prowler said she was looking for a person who lived in the home named Leslie.
"That tells us the suspect may live in the neighborhood or is casing the homes she hits," Vernon added in the release.
Detectives believe the prowler may be linked to a black Ford Explorer that was seen leaving the area of one of the burglaries.
She was described as a Hispanic woman, 5 feet 4 inches tall, with a medium to heavy build.
Authorities believe the woman may be trying to support a drug problem by looking for valuables to steal.
"Criminals who are willing to enter occupied homes present a special risk to residents," Vernon said. "They are desperate for their addiction, tend to act impulsively and don't consider consequences. The most important thing residents can do is to keep doors locked at all times, close garage doors, and be a good neighbor and witness."
Anyone with information was urged to call Detective Sam Issa, Mission Burglary Unit, at 818-838-9886.
Those who wish to remain anonymous can contact Crimestoppers by calling 800-222-8477 (800-222-TIPS), or by texting 274637 (C-R-I-M-E-S on most keypads).