This is an archived article and the information in the article may be outdated. Please look at the time stamp on the story to see when it was last updated.
A taxi cab driver was killed early Sunday morning after being attacked by his passenger in the Franklin Village area of Hollywood Hills, according to police.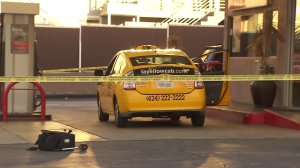 The attack happened shortly after 3 a.m. at a 76 gas station at Franklin Avenue and Beachwood Drive, according to the Los Angeles Police Department.
The fight started inside the vehicle and was prompted by a dispute over money, police said.
"The cab driver was struck several times," LAPD Lt. John Radtke told KTLA. "That fight lead into the gas station parking lot and then the victim fell down, and possibly hit his head."
Radtke said the incident was being considered both a robbery and a homicide.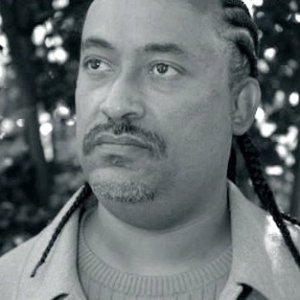 The victim was identified by his employer as Afsawosen Alemseged.
Coworkers said he hoped to become a musical star, and a website for a man with a similar name showed a CD he had apparently recorded in Amharic, the official language of Ethiopia. Messages of mourning were being left on a Facebook page for Asfawosen Alemseged, which had nearly 2,000 followers.
He was pronounced dead shortly after being transported to a local hospital, according to police.
Police described the attacker as a 35- to 40-year-old man, either white or of Middle Eastern descent. He is about 5 foot 8 inches tall with thick hair and was wearing a long-sleeved blue shirt. He was last seen leaving the area eastbound on Franklin Avenue on foot.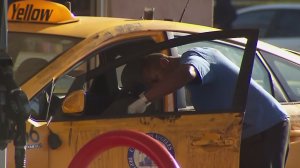 Surveillance video taken from inside the taxi was turned over to police.
"We have a camera in our car, so they're going to check it out. Hopefully they will find something," said Yellow Cab supervisor Haroutioun Kantzabedian.
The gas station was closed for much of the morning, reopening shortly after 9 a.m.
The area of Hollywood Hills, known as Franklin Village, includes multiple retail shops and restaurants.
Police initially said the incident occurred several blocks east, at Franklin and Bronson. The gas station is actually at Franklin Avenue and Beachwood Drive.
KTLA's Geoff Peters and Melissa Pamer contributed to this report.