This is an archived article and the information in the article may be outdated. Please look at the time stamp on the story to see when it was last updated.
REDLANDS, Calif. (KTLA) — A 28-year-old teacher was arrested on suspicion of having sex with a teenage boy who allegedly fathered her child.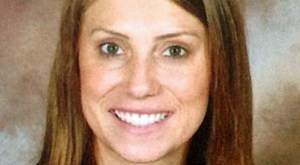 Laura Elizabeth Whitehurst was arrested Monday at her home in Redlands.
She allegedly met the 16-year-old victim at Citrus Valley High School where she was his adviser, Redlands police spokesman Carl Baker said in a statement.
The sexual relationship allegedly began last summer and continued for nearly a year.
It finally ended when the boy's mother contacted school officials who called police.
Whitehurst gave birth to a child June 18 allegedly fathered by the teen, according to the statement.
She was released from jail Monday on $25,000 bail.
Anyone with additional information was asked to contact Detective Natasha Crawford at (909) 798-7623 or Redlands Police Dispatch at (909) 798-7681.
Anonymous tips can be provided by texting 274637 using the keyword "REDTIP."