This is an archived article and the information in the article may be outdated. Please look at the time stamp on the story to see when it was last updated.
National Transportation Safety Board officials arrived Tuesday morning to investigate the deadly crash of a small plane into a Riverside home that left three people dead, two others hospitalized, and wreckage strewn over a debris field stretching nearly 150 feet.
A teenage girl, a man and a woman were killed when the six-seat, twin-engine Cessna 310 crashed shortly after taking off from Riverside Airport Monday afternoon, Riverside Police Department Officer Ryan Railsback said during a news conference Tuesday morning.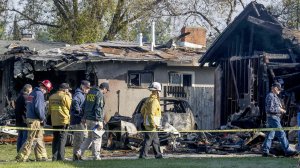 Two other passengers, both women, survived the crash and were still hospitalized, Railsback said. The survivors were both found outside of the wreckage and were likely ejected, authorities said.
One of the women, who was found on the front lawn of the home and was helped across the street by neighbors, was in stable condition at Riverside Community Hospital with possible airway burns. The other woman was in critical condition at a burn center and underwent surgery at Arrowhead Regional Medical Center in San Bernardino, Railsback said.
That second victim, whom firefighters found inside a bedroom using thermal-imaging cameras in zero visibility, was believed to have third-degree burns over 90 percent of her body, Riverside Fire Department Capt. Tyler Reynolds said.
The relationships between the passengers and pilot remain unclear, but one of the survivors told firefighters the group had been in the area for a cheerleading conference at Disneyland. Some of the group are believed to be related to each other, Reynolds said.
Authorities are waiting for the coroner's office to complete notification of family members in San Jose before releasing the victims' names. A coroner's sergeant told KTLA the names will not be released until Wednesday because investigators are awaiting confirmation via dental records being overnighted from San Jose.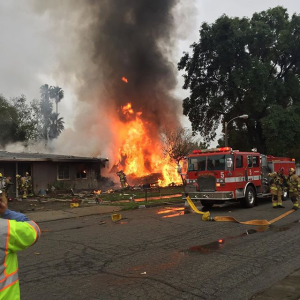 NTSB investigators are working to document the crash site "in situ" and gather witness statements, Air Safety Investigator Stephen Stein said. The wreckage, which he said was left in pieces over a 100-to-150-foot debris field, will eventually be taken to a secure local location for further examination.
Video showed one of the plane's propellers landed on top of a home.
The plane was scheduled to fly to San Jose when it left Riverside Municipal Airport Monday, Federal Aviation Administration officials confirmed.
Delmy Pennington, the owner of a café at the airport, said the pilot had trouble getting the plane started before takeoff.
"He looked like he was worried about it," Pennington said.
The plane finally started when the pilot went out for the third time, Pennington said.
Reynolds said at an 11 a.m. news conference that investigators have not confirmed which individual was flying the plane, and Stein reiterated that later in the afternoon after initially calling the pilot "he."
Not long after lifting off, the plane went down into a home near Central and Streeter avenues about 4:41 p.m.
The crash resulted in a large fire that destroyed two homes and damaged two others. The two destroyed homes have been red-tagged while the other two have only exterior and smoke damage, Reynolds said.
No one on the ground was believed to be injured as a result of the crash. The residents of the home most directly hit by the plane were not home at the time of the crash, Railsback said.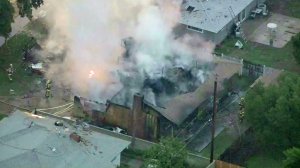 A man in another home managed to escape just as the plane burst into flames and the house caught fire.
"Very remarkable that no one else was injured," Railsback said.
Fourteen people have been displaced, Riverside City Councilman Mike Soubirous said. He praised firefighters, who have trained in urban rescue, and the bystanders who helped one of the victims.
"That's just astounding," he said of the residents' help.
Neighbor Izel Torres was home with her family when the crash occurred. She said she heard the plane going down and when it did crash it felt "like an earthquake."
She and her family were able to get out of their home and eventually saw flames from the crash.
Torres told KTLA that she does not know when they will be able to permanently return to their home.
NTSB investigators plan to look at environmental factors like weather and lighting, the pilot's experience and flight records, and the engine and airframe, Stein said. They're also reviewing surveillance video and survivor and witness accounts.
Witnesses are asked to submit statements via email at witness@ntsb.gov.
A preliminary NTSB report will be issued in five to 10 days; a full summary of the crash could take 15 to 18 months.