This is an archived article and the information in the article may be outdated. Please look at the time stamp on the story to see when it was last updated.
A 15-year-old girl who investigators say was sexually abused by a former Los Angeles police officer while she was part of the department's cadet program filed a claim against the city Friday, alleging the officer spent months gaining her trust before coercing her into having sex with him.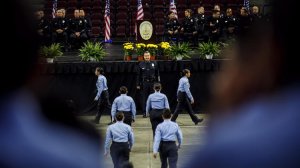 Robert Cain, 31, used his influence as a police officer and mentor to draw his teenage victim into a series of sexual encounters earlier this year, said attorney Luis Carrillo, who is representing the alleged victim.
"He was manipulating her for his use," he said. "She needs a lot of therapy."
Cain was arrested and charged with multiple sex offenses involving an underage member of the cadet program earlier this year. The alleged sexual acts occurred on June 14, according to the claim, which does not name the girl.
Read the full story on LATimes.com.