This is an archived article and the information in the article may be outdated. Please look at the time stamp on the story to see when it was last updated.
A 17-year-old boy was hospitalized in critical condition after accidentally shooting himself in the head at a park in Rancho Cucamonga, authorities stated Wednesday.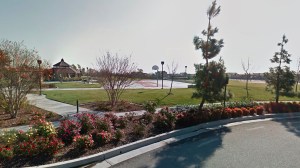 The boy, whose identity was not released, was with a group of friends at Victoria Arbors Park when the shooting occurred at about 8 p.m. Monday, the San Bernardino County Sheriff's Department stated in a news release.
Witnesses told investigators the boy was playing with a handgun, which he had inherited from a family member, when he accidentally shot himself in the head.
Witnesses immediately called for help and the boy was flown to a local area hospital in critical condition.
There was no evidence of foul play or a suicide attempt, according to investigators.