This is an archived article and the information in the article may be outdated. Please look at the time stamp on the story to see when it was last updated.
An 18-year-old Corona man was charged Wednesday with multiple counts of attempted murder of a police officer in connection with an early morning gun battle that left a SWAT officer seriously injured and shut down the 110 Freeway for hours.
Avel Jowan Turks, whose alleged 37-year-old accomplice Andre Maurice Jones was shot dead by police at the end of the hourslong confrontation, was set to be arraigned in downtown Los Angeles.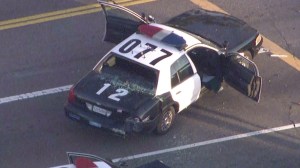 Turks was charged with 15 felony counts: six counts of attempted murder of a peace officer, six counts of using an assault weapon on a peace officer, and one count each of shooting at an occupied motor vehicle, evading police and possession for sale of cocaine base. The complaint includes gun and gang allegations, according to the Los Angeles County District Attorney's Office.
Turks was accused of being the driver of a Chevrolet Tahoe from which shots were repeatedly fired at police during a high-speed pursuit on and off the 110 Freeway in South Los Angeles on Monday, according to the DA's office. Police had previously said they were not certain if Turks or the other suspect was the driver.
Turks was arrested after hiding in a dumpster near 37th Street and South Grand Avenue.
Jones, who was identified by the coroner's office, was killed shortly thereafter during a gun battle with officers nearby. He had an illegal assault-type rifle with a high-capacity drum magazine at his side, according to police.
A SWAT officer's leg was shattered during the shooting; he underwent surgery and was expected to recover but possibly not be able to resume all duties, a doctor said.
Turks faces life in prison if convicted. Prosecutors planned to ask for his bail to be set at $4.1 million.