This is an archived article and the information in the article may be outdated. Please look at the time stamp on the story to see when it was last updated.
An 18-year-old was facing assault and battery charges Wednesday after allegedly attacking a boy in Orange County, and the brutal incident was apparently caught on video.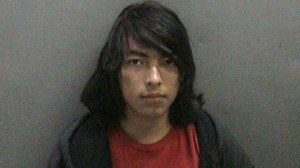 Robert Valentin Ayala, 18, also faces a great bodily harm enhancement for his alleged involvement in the May 20 incident, according to a criminal complaint from the Orange County District Attorney's Office.
Video posted on Facebook by the group Ladera Ranch No Bullying allegedly showed Ayala entering into an after-school fight between two Tesoro High School students, one 17 and the other 16, and kicking the 16-year-old in the head.
The fight took place on a playground at Chaparral Elementary School in Ladera Ranch, according to the Facebook post.
During the fight, video showed the younger teen being wrestled to the ground and punched by the 17-year-old.
While the victim, whose identity was not released in the criminal complaint, was attempting to defend himself on the ground, Ayala allegedly ran up and kicked him in the head, apparently knocking him out.
Ayala was said to be friends with the 17-year-old involved in the fight.
The victim, unable to defend himself following the kick, was punched eight more times by the 17-year-old, the video showed.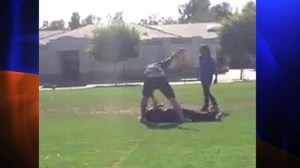 As the boy lay motionless on the ground, Ayala allegedly jumped on him, imitating a wrestling move, and landed on the 16-year-old's head.
The boy suffered a broken nose and a concussion, and was said to have no recollection of the incident, the DA's office confirmed.
Ayala has pleaded not guilty to the charges against him and was being held on $50,000 bail.
The 17-year-old was also charged, but there was no word on his what charges he faced.
The appropriate discipline was being taken by the school district, according to Capistrano Unified School District Spokesman Stephen Nichols.
"We really want to make sure that students and faculty are aware of how serious of an incident this is," Nichols said.
Officials at Tesoro High School have declined to comment on the incident.