This is an archived article and the information in the article may be outdated. Please look at the time stamp on the story to see when it was last updated.
The teenager killed in a shooting in Harbor City on Monday evening has been identified, Los Angeles Police Department officials said Tuesday.
Corey Daily, 16, was shot while standing with a group of friends inside the courtyard of an apartment complex in the 1500 block of West Anaheim Street, LAPD said.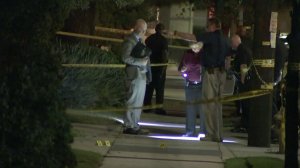 The shooting happened at around 5:50 p.m., police said, and he was struck several times by multiple rounds fired in his direction.
Daily fell to the ground upon being shot and later died from his injuries at a local hospital, police said.
The night of the shooting, a witness who lives nearby told KTLA he saw the teen's family members crying near the scene of the fatal shooting.
"The way they were screaming — the mom, the sisters, the friends — they were crying," said Javier Sanchez. "It was sad. The mom was in the middle of the street. She didn't care if cars were coming."
Anyone with information about the incident is urged to contact LAPD Detective Coffee or Sergeant Oliva at 310-726-7887 or 310-726-7886. Anonymous tips can be sent to L.A. Crime Stoppers at 800-222-8477.