This is an archived article and the information in the article may be outdated. Please look at the time stamp on the story to see when it was last updated.
A 36-year-old man turned himself in to police on Wednesday afternoon in connection with a hit-and-run crash in Newport Beach the previous night that left a 14-year-old girl hospitalized in critical condition.
The man, identified as Anthony Michael George, was booked on suspicion of felony hit-and-run, police Lt. Jeff Brouwer said.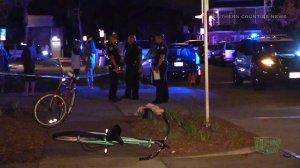 Shortly before 9:30 p.m. Tuesday, officers responded to a report of a collision between a bicyclist and a vehicle in the intersection of East Bay and Anade avenues in the Balboa Peninsula area, according to Sgt. Randy Parker of the Newport Beach Police Department.
When they arrived at the location, they discovered the injured teen bicyclist, Parker said.
The girl had been traveling with other cyclists eastbound when she was struck by the vehicle traveling westbound on East Bay Avenue, police said. The car's driver did not stop to render aid.
Video from the scene showed a mint-colored beach cruiser down on the sidewalk. A flip-flop sandal and the bicycle's once-attached basket were several feet away on the edge of a driveway.
The girl was not wearing a helmet at the time of the collision, according to a Newport Beach police news release.
The girl suffered life-threatening injuries, was rushed to an area hospital and was in critical condition, police said.
Her identity has not been released, and authorities have only described her as a resident of San Carlos.
Authorities initially described the vehicle that fled only as a silver or white Mercedes-Benz.
George's champagne-colored Mercedes was impounded, Brouwer said.
Anyone with information was asked to contact Investigator Dave Darling at 949-644-3746 or ddarling@nbpd.org.
KTLA's Kennedy Ryan and Melissa Pamer contributed to this article.
More video: