This is an archived article and the information in the article may be outdated. Please look at the time stamp on the story to see when it was last updated.
LAKEWOOD, Calif. (KTLA) — Police in Lakewood on Friday were looking for two men after a college student was gunned down in front of his home.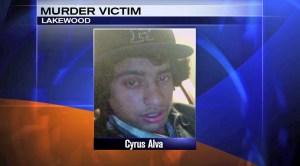 It happened around 2 p.m.on Thursday in the 3700 block of Arbor Road, according to the L.A. County Sheriff's Department.
Cyrus Alva, 19, was in front of his home when he was confronted by two Hispanic men, authorities said.
One of them allegedly shot Alva at close range, and he died at the scene.
The men took off in a car, possibly a 1990s, 4-door white Toyota Camry.
Alva, who loved skateboarding, was not in a gang, according to friends and family. They said they were in absolute shock over the shooting.
"He was a good boy, he was good for anyone," his mother said.
"He was a friend of the community, everyone loved him," one friend said. "We all feel very bad. I just saw him yesterday."
Cyrus lived at the house with his older brother, and they were sometimes seen arguing in front of the house, according to neighbors.
Police confirmed they had been to the house a couple of times before, but they would not give any additional details.
It remained unclear if Alva was targeted, sheriff's investigators said. They did not believe that Alva was in a gang.
Anyone with information was asked to contact the L.A. County Sheriff's Department Homicide Bureau at (323)890-5500.