This is an archived article and the information in the article may be outdated. Please look at the time stamp on the story to see when it was last updated.
Authorities on Thursday were investigating a collision between a 16-year-old bicyclist and a patrol vehicle in Palmdale, officials said.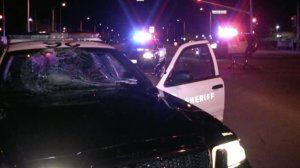 The incident occurred around 11:20 p.m. Wednesday at the intersection of 47th Street East and Avenue S when the teen crossed the street against a red light, according to a statement from the Los Angeles County Sheriff's Department.
The deputies were traveling north on 47th Street with a green light and unable to stop in time when the bicyclist, who was heading east on Avenue S, rode in front of the patrol vehicle, the release states.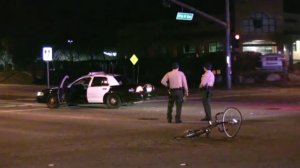 The teen was transported to a local hospital and is listed in serious condition, authorities said. He has not been identified and was only described as a black 16-year-old.
The deputies, whose names have not been released, were unharmed, officials said.