This is an archived article and the information in the article may be outdated. Please look at the time stamp on the story to see when it was last updated.
A teen was killed and two others were injured after a shooting near a Wilmington high school Tuesday afternoon, Los Angeles Police officials said.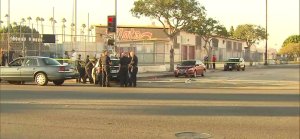 The shooting was reported about 3:15 p.m. in the 1500 block of Lakme Avenue, near Banning High School, officials said.
"It sounds like some words were exchanged and then he fired at all three of them." said LAPD Capt. Michael Oren said of the gunman. The shooting may have been gang-related, he added.
The Los Angeles Times reported that the gunman was in a gray vehicle.
One of the victims was shot in the chest and was declared dead at a hospital. He is a student at the school, family and friends said.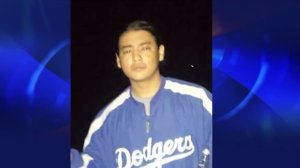 Julian Martinez said he ran to the shooting scene and discovered his brother-in-law bleeding to death on the ground. He said he didn't get a chance to talk to him. The victim has not been formally identified by police, but Martinez said his name was Richard Tafoya.
A teen who was shot in the back is in critical condition and another, who was shot in the arm, is expected to survive, police said. One is also a student at the school and the other is a former student.
It is unclear if the gunman is a student at the school.
Many students witnessed the deadly shooting as they were getting out of school.
Angel Morales said he saw Tafoya on the floor.
"Teachers and students were trying to help him out, but he was already dying," Morales said.
James Castles, who knew Tafoya, described him as "a good kid."