This is an archived article and the information in the article may be outdated. Please look at the time stamp on the story to see when it was last updated.
A 17-year-old boy killed during a triple shooting in the Vermont-Slauson neighborhood of South Los Angeles Tuesday afternoon was identified as Kevin Cleveland Jr. by his mother on Wednesday morning.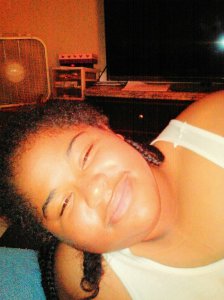 The mother, speaking to reporters outside the family's home, said her son was walking home from school when he was shot.The gunfire — some 10 shots — was reported near the intersection of Vermont Avenue and 60th Street about 3:50 p.m., according to LAPD.
Two other teens who were with Cleveland were also shot by a gunman wearing a hoodie.
One victim was in critical condition after the shooting and the other had suffered non-life threatening injuries, Los Angeles Police Department Deputy Chief Phillip Tingirides said. The surviving victims were described as a boy and a girl between the ages of 15 and 17.
Cleveland's mother, who gave only her first name, Ladrena, told KTLA she heard the barrage of gunfire and got in her car to go try to find her son.
"I jumped straight up, like, 'Where is Kevin at?'" Ladrena said. "That's what we go through around here when there's a shooting."
She found her son, wounded in the stomach and leg but still able to talk, and thought he would be OK. He got up and got on the gurney, Ladrena said.
He later died at the hospital, leaving the family with questions about why it took so long for him to get medical attention, Kevin's cousin said.
Kevin, who had recently celebrated his 17th birthday, had never been involved in gangs and loved to play video games at home, Ladrena said. She described him as an "Xbox Live kid."
"He was trying to get home, and he just was caught up," Ladrena said. "He didn't know nobody was going to come shooting. None of the kids knew. They wouldn't have been out there if they knew somebody was going to come shooting."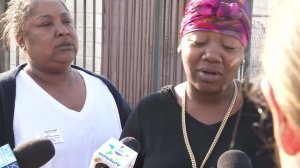 The victim has two older brothers and two older sisters, Ladrena said.
"He was an innocent bystander, period," said Kevin's cousin, standing alongside Ladrena. "Somebody had the audacity to come up to a school, come up to … some kids and let some fire out on some kids? … What did you gain from that?"
The gunman remains at large. He was described as a black man in his 20s who was wearing jeans and a hooded sweatshirt.
It was unclear if the shooting was gang related, but police confirmed there was no indication the victims had any gang ties.
The shooting occurred near John Muir Middle School and Augustus Hawkins High School.