This is an archived article and the information in the article may be outdated. Please look at the time stamp on the story to see when it was last updated.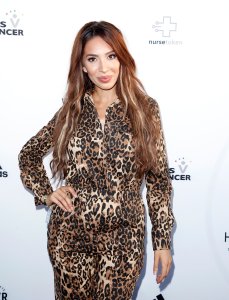 A reality television personality best known for her role on MTV's "Teen Mom" is facing charges after allegedly assaulting a security guard at the Beverly Hills Hotel, prosecutors said Monday.
Farrah Laurel Abraham, 27, has pleaded not guilty to the charges, which stem from a June 13 incident in which she was asked to leave a restaurant at the historic Sunset Boulevard hotel, the Los Angeles County District Attorney's Office said in a news release.
Abraham — who appeared on all four seasons of "Teen Mom" and was also featured on its precursor, "16 and Pregnant" — is accused of getting into a scuffle with a guard who asked her to leave the Polo Lounge.
The situation prompted hotel staff to call police, the DA's office said.
According to prosecutors, she refused to comply with the responding officers' orders.
Inmate records show she was taken into custody around 2 a.m. that morning and released later the same afternoon after being held on $500 bail.
She was subsequently charged with one count each of battery and resisting, delaying or obstructing a peace officer — both misdemeanors — after the case was filed on July 13, officials said.
Abraham is scheduled to return to court for a pretrial hearing on Sept. 21.
She could face up to 18 months in jail if convicted as charged.
Beverly Hills police are continuing to investigate the incident.