This is an archived article and the information in the article may be outdated. Please look at the time stamp on the story to see when it was last updated.
A boy who spent 12 hours floating through a maze of pipes that carry Los Angeles residents' waste publicly thanked the first responders who rescued him on Friday, as city officials promised to ensure no other children fall into the same predicament.
Jesse Hernandez, 13, fell 25 feet down a pipe into the underground sewer system while playing with other kids near an abandoned shed in Griffith Park, where his family was picnicking on Easter Sunday. He was eventually pulled out the next day, about a mile east of where he had plunged in, after crews worked through the night.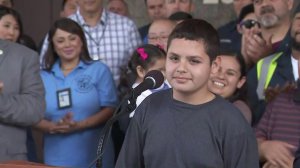 Hernandez smiled ruefully as he stood alongside some of the city officials who helped to locate him on Friday.
"I'm so thankful to everybody who was involved in my rescue," he said. "Because of them I'm back with my family. And God for giving me another chance to live."
Mayor Eric Garcetti was also on hand, and celebrated the tireless efforts of the various city agencies involved, including the Fire Department, Police Department, Sanitation and Park Rangers.
"We look out for each other in Los Angeles, and that's why we all experienced an Easter miracle," Garcetti said.
Despite the harrowing circumstances, city officials said they never lost hope Hernandez would be found alive.
The two men who actually pulled Hernandez from the underground system, sanitation workers Michael Adams and Kurt Boyer, recounted the jarring moment they realized they'd found him.
"At that moment it was just shock," Boyer said. "We were surprised, had no idea he was going to be there. He's got to be the toughest kid I've ever seen."
A large team of sanitation employees tracked marks Hernandez intentionally left along the sewer tunnels' walls as he traveled through the pipes to pinpoint his location.
"We don't even go in the sewer," Boyer said. "I can't even imagine what he went through. It's a toxic environment."
Adele Hagekhalil, assistant director for L.A. Sanitation, said the incident provided an opportunity for residents to get a glimpse of the kind of hard, thankless work that sanitation employees are involved in every day. His workers were called at home on a holiday and quickly responded to methodically search and successfully rescue Hernandez, Hagekhalil said.
"As the hours went by, our workers were physically and emotionally tired and exhausted — but they never gave up hope because every time they looked over the fence, they saw Jesse's family," he said. "They wanted to bring Jesse home to his family, and they did."
City Councilmember David Ryu also applauded the Hernandez family for their steadfast faith in finding the 13-year-old.
"We had no idea what was going to happen, but the Hernandez family — their entire extended family — did not give up," he said. "Even as we waited through the endless night, they never lost faith that Jesse would be found. This Easter, I saw what faith truly looked like."
Ryu announced that he is working with Garcetti's office, the city attorney and other city councilmembers to identify and better secure or demolish abandoned structures in the city's sewer system similar to the one Hernandez was playing on with his relatives on Sunday.
"No one should ever have to experience what Jesse and his family went through," Rye said. "No one."
The shed was, however, marked as a restricted area.
After giving Hernandez "the VIP treatment" at the LAPD Northeast station, officers took him to the police academy, where they "had a conversation about consequences and what he's learned," Capt. Arturo Sandoval said.
"He's very, very receptive," Sandoval said. "He's a great kid, and we're very fortunate to have him."
As a dad, I can only imagine how scary those 12 hours must have been for Jesse and his family — and the joy they felt when they were reunited. Our whole city was praying for you, Jesse, and we're so glad you're safe and sound! pic.twitter.com/iFA7CcTQxV

— Mayor Eric Garcetti (@MayorOfLA) April 6, 2018