This is an archived article and the information in the article may be outdated. Please look at the time stamp on the story to see when it was last updated.
Doctors have diagnosed Robert H. Schuller with life-threatening cancer and said that with treatment he could live another two years, his family has announced.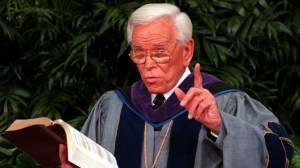 The 89-year-old has a life-threatening growth in his esophagus, said his daughter, Sheila Schuller Coleman, who shared the news first with worshipers during a sermon in late August. Physicians initially told her father he had three months to live.
In follow-up exams, an oncologist advised Schuller that although the cancer had spread to his lymph nodes, "he is a good candidate for chemotherapy and radiation treatment that could extend his life for another two years," according to an online update via the Hope Center of Christ, the church headed by Schuller Coleman.
Schuller, once one of America's most prominent evangelical preachers, rose to fame as the founder of the Crystal Cathedral  and the face and voice of the "Hour of Power" television program.
Click here to read the full story on LATimes.com.