This is an archived article and the information in the article may be outdated. Please look at the time stamp on the story to see when it was last updated.
A man found guilty of murdering a woman by smashing a whiskey bottle over her head in an unprovoked and random attack at a Temecula drugstore has been sentenced to 25 years to life in prison, prosecutors said Friday.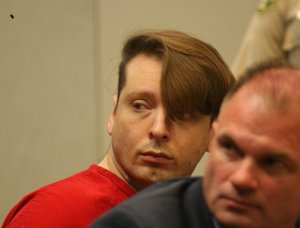 In sentencing 33-year-old Brian Saylor, the judge said he demonstrated a "high degree of cruelty and callousness" on the victim when he killed her in 2016, according to a tweet from the Riverside County District Attorney's Office.
Earlier this year, jurors found the Temecula man guilty on one count of murder in the killing of 54-year-old Tammy Serrano, a news release from the DA's Office stated
The victim's adult daughter Tori spoke at Saylor's sentencing, telling the judge "days don't have the same sunshine they used to" since her mother was slain.
Serrano was with Tori at a CVS Pharmacy on Rancho California Road in Temecula on June 13, 2016, to purchase makeup while the young woman was on spring break from college in Arizona, according to the release.
The two were standing in the checkout line near Saylor, but there was no interactions between them prior to the fatal incident, prosecutors said.
Saylor was at the register with a 750 ml bottle of Jim Beam bourbon when he picked up the item, put it down on the counter and took out his wallet.
But instead of paying for the alcohol, he picked up the bottle again and smashed it on the left side of the victim's head, according to the DA's office.
Serrano immediately fell to the floor; she never again regained consciousness.
After the fatal attack, Saylor went outside and smoked a cigarette, prosecutors said.
He waited outside until Temecula police arrived and arrested him.