This is an archived article and the information in the article may be outdated. Please look at the time stamp on the story to see when it was last updated.
A Temple City man accused of killing a woman and injuring three others over a span of 10 hours has pleaded guilty to charges during a court appearance on Monday, according to the Los Angeles County District Attorney's Office.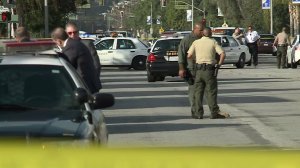 John Ralph Perales, 45, pleaded guilty to a felony count of second-degree murder and three felony counts of attempted murder, the DA's office said in a news release. He also admitted to a special allegation of using a deadly and dangerous weapon in each crime, and that he had previously been convicted of first-degree burglary in 1992.
The first attack occurred in the early morning hours of Jan. 11, when Perales went to the El Monte home of his ex-girlfriend. He spent some time at the residence before crawling on top of her as she slept, waking her up and then cutting her with a knife, according to prosecutors.
As the woman fought him off, her son attempted to intervene and was stabbed, the release stated.
Perales fled the scene, turning up at the Temple City home of Diana Alarcon later that same day. Another male guest was at the home, and at some point, the two men argued.
During the dispute, Perales hit Alarcon and the man with a wrench. The woman was stabbed in the back with a samurai sword while she was unconscious, and later died, the Los Angeles County Sheriff's Department said at the time. The man was hospitalized for treatment.
Perales was later arrested at his home.
His sentencing is scheduled to be held on Nov. 15; he faces up to 45 years to life in prison, according to the DA's office.