This is an archived article and the information in the article may be outdated. Please look at the time stamp on the story to see when it was last updated.
A stolen Tesla involved in a fiery crash split into two following a pursuit that ended in West Hollywood early Friday, leaving seven people injured, police said.
The incident began when police received a call from a Tesla dealership stating that an individual was "tampering or messing with" one of the vehicles, according to Sgt. Campbell with the Los Angeles Police Department's Pacific Division.
Officers responded to the dealership and a pursuit began at about 12:45 a.m., Campbell said.
During the pursuit, the Tesla reached speeds of up to 100 mph, according to Campbell.
The pursuit ended on La Brea Avenue between Fountain and Lexington avenues a short time later when the driver of the Tesla hit two other cars and a lamp post, Campbell said.
A witness told KTLA that the Tesla hit the pole and split in half, and that part of the vehicle landed on top of a white car.
"There were fires after that that broke out," Eric Martinez said. "I saw the firefighters — like 25 firefighters – standing around the white car with the Jaws of Life."
Martinez added that at one point, explosions could be heard.
"We originally thought it was fireworks. Everybody thought it was fireworks that were just exploding," he said.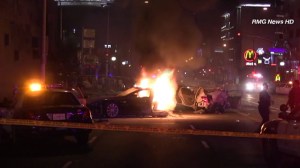 Video from the scene showed the Tesla cut in half, and a portion of the vehicle appeared to have crashed into a building at the corner of the street. The other half of the vehicle remained in the roadway and caught fire.
In total, the Tesla collided with four vehicles, injuring a total of 6 victims, before splitting in two, according to the Los Angeles County Sheriff's Department.
One of the cars, a Honda Civic, had five people inside when the Tesla slammed into it. At least one person in the car was critically injured, according to Campbell.
Five of the victims were taken to a local hospital and treated for non-life-threatening injuries.
The man driving the Tesla — who was ejected from the vehicle — was originally thought to have died, but he was resuscitated while en route to a hospital, according to a Sheriff's Department news release.
Two LAPD officers were injured during the pursuit when their vehicle hit the center divider, according to LAPD Officer Bruce Borihanh.
The officers complained of pain and were taken to a local hospital, Borihanh said, adding that they were later released and did not sustain injuries.
La Brea was shut down in both directions in the area for hours as authorities investigated the crash.
KTLA's Alberto Mendez and Ashley Soley-Cerro contributed to this report.