This is an archived article and the information in the article may be outdated. Please look at the time stamp on the story to see when it was last updated.
LONG BEACH, Calif. (KTLA) – Families and artists gathered on the beach Sunday for the 81st Annual Great Sand Sculpture Contest.
The event was scheduled to start at 10 a.m. and included two contests – one for professionals and one for the community.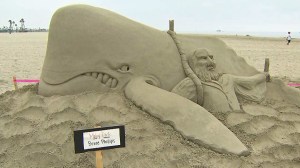 In the Professional category, sculpting pros competed for a cash prize.
During the Community contest, 40 amateur teams vied for prizes donated by Long Beach businesses.
The sculptures were judged on uniqueness, difficulty and how well they fit the contest theme – "Sculpting Literacy in Your Community."
All proceeds from the Great Sand Sculpture Contest will be donated to promoting childhood and adult literacy through the Long Beach Public Library Foundation.
For more on the contest, click here.