This is an archived article and the information in the article may be outdated. Please look at the time stamp on the story to see when it was last updated.
The producers of History's enormous ratings hit "The Bible" may want to add a disclaimer to future episodes of the religious miniseries: Any resemblance between Satan and President Obama is purely coincidental.
Given its subject matter, it was all but inevitable that "The Bible" would become a magnet for controversy, and so it has, though not for the reasons you might expect — like, say, its emphasis on violence or its decidedly European-looking cast.
No, the reason that executive producers Roma Downey and Mark Burnett found themselves on the defensive on Monday is that a  number of viewers, including conservative pundit Glenn Beck, have noticed a resemblance between Obama and Mohamen Mehdi Ouzaani, the actor who plays the Devil in the miniseries.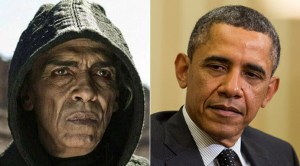 "Anyone else think the Devil in 'The Bible' Sunday on History Channel looks exactly like That Guy?" Beck tweeted on Saturday, using his preferred euphemism for the commander in chief.
Compared side by side, the two men — both long-faced with prominent ears —  do bear a certain resemblance, except that ol' Beelzebub appears to have aged even more rapidly than Obama.
Given the popularity of "The Bible" among Christian conservatives, and Obama's relative unpopularity with the same demographic, some observers wondered whether its producers were making a political statement.
Prompted by the non-troversy, History issued a statement Monday strongly denying any link between Obama and the Prince of Darkness.
"History channel has the highest respect for President Obama," it read. "It's unfortunate that anyone made this false connection. History's 'The Bible' is meant to enlighten people on its rich stories and deep history."
Downey and Burnett also weighed in with a statement: "This is utter nonsense. The actor who played Satan, Mehdi Ouzaani, is a highly acclaimed Moroccan actor.
He has previously played parts in several Biblical epics – including Satanic characters long before Barack Obama was elected as our President."
Downey added that she and Burnett, her real-life husband, have "nothing but respect and love" for the president, "a fellow Christian."
In the run-up to its premiere earlier this month, Burnett and Downey promoted "The Bible" at mega-churches around the country, including Rick Warren's Saddleback Church in Orange County.
Although veteran reality producer Burnett has allied professionally with two of Obama's fiercest critics, Sarah Palin and Donald Trump ( on "Sarah Palin's Alaska" and "The Apprentice," respectively), he has a record of donating to democratic causes.
For what it's worth, this isn't the first time that someone or something resembling a divisive president has made an unexpected appearance in a Sunday-night appointment TV series: The producers of HBO's fantasy hit "Game of Thrones" were forced to apologize last year for mounting a prosthetic version of President George W. Bush's head on a spike in the background of an episode from the first season.
— Meredith Blake, L.A. Times