This is an archived article and the information in the article may be outdated. Please look at the time stamp on the story to see when it was last updated.
California has faced back-to-back fire seasons that have left dozens of people dead as blazes rage across hundreds of square miles. But the state's governor said it's not over yet.
In fact, Gov. Jerry Brown issued a dire warning to the state's residents on Sunday of a "new abnormal."
He described an even drier, warmer climate that could make such devastating wildfires more common than in past years.
"And this new abnormal will continue certainly into the next 15 to 20 years," Brown said, pointing to climate change as the root of the problem.
Twenty-five people have lost their lives in wildfires raging across the state. In Northern California, the Camp Fire killed 23 of those victims while the Woolsey Fire claimed two lives as it burned through Malibu in recent days.
Gov. Brown said he is trying to get more federal funding to battle the blazes, as he requested a "major disaster declaration" from the president earlier Sunday.
Meanwhile, President Trump has blamed the devastating wildfires on the state's alleged "poor" forest management — triggering backlash from lawmakers, celebrities, and most notably, firefighters.
Brown hit back at the president, describing such management as just one part of a much bigger problem.
"Managing all the forests everywhere we can does not stop climate change," Brown said. "And those who say that are definitely contributing to the tragedies that we're now witnessing and will continue to witness in the coming years.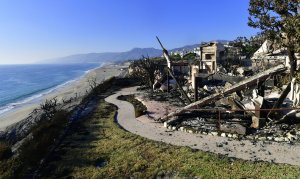 This fire season follows a particularly deadly set of California wildfires last year.
The fires that roared through Northern California in October 2017 claimed more than 40 lives and were followed by another set of devastating blazes further south. The Thomas Fire, which started in Ventura County before continuing into Santa Barbara, killed another two people and became the second-largest blaze in state history.
It was soon topped by the Mendocino Complex fire just months later.
Now considered the largest fire in state history, that blaze left one person dead after burning through more than 450,000 acres — or more than 800 square miles.
Describing the "new abnormal," Gov. Brown said the state must be ready to face even more dire conditions.
"Things like this will be part of our future — things like this and worse," he said.