This is an archived article and the information in the article may be outdated. Please look at the time stamp on the story to see when it was last updated.
A grim new study led by a UCLA geography professor revealed that the current 5-year drought in California could last indefinitely, with the resulting arid conditions becoming "the new normal" for the state.
The study, which looked at prolonged periods of dryness in California over the past 10,000 years, was published Thursday in the Nature.com journal Scientific Reports.
It noted that the state's drought in the 21st century has been the most intense ever recorded, with drier than normal conditions in 10 of the past 14 years; the last three years have also been the hottest and driest in about 120 years.
The study investigated how natural climatic forces such as sun spots, a slightly different earth orbit and decreased volcanic activity intermittently warmed the region through radiative forcing, contributing to historic periods of dryness that lasted for hundreds and even thousands of years.  It also looked at the presence and impact of greenhouse gases, another more recent warming force.
The radiative forcing that results from warming forces have the potential to extend drought-like conditions indefinitely, according to UCLA Professor Glen MacDonald, the study's lead author and an expert on drought and climate change.
"Radiative forcing in the past appears to have had catastrophic effects in extending droughts," MacDonald said in UCLA news release detailing the study's results.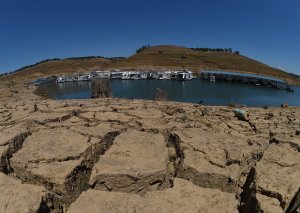 "When you have arid periods that persist for 60 years, as we did in the 12th century, or for millennia, as we did from 6,000 to 1,000 B.C., that's not really a 'drought,'" he said. "That aridity is the new normal."
Those conditions were also tied to prolonged changes in sea surface temperatures, which are linked to El Niño and La Niña conditions and have an effect on how much rain and snow California receives, according to the release. The study marks the first time a link has been established between the aridity and prehistoric climate records of the Pacific Ocean.
The state is entering a La Niña period — which means drier weather — after last year's El Niño. Researchers say that combination of drier weather and an increase of greenhouse gases could extend drought conditions to the point that it becomes the new normal of California.
"The drought today, what we're experiencing over the last five years – it's not beyond reason that as we move into the 21st century that this isn't a drought. This could be what would we consider normal conditions for California: a drier and hotter state," MacDonald told KTLA in an interview on Wednesday.
UCLA researchers drew their conclusions by studying sediment samples from dry lake beds in Central California. During their investigation, they discovered evidence of an ancient drought in California that lasted for thousands of years.
Those prehistoric mega-droughts were caused by natural phenomena, such as changes in ocean temperature and volcanic activity, according to the study.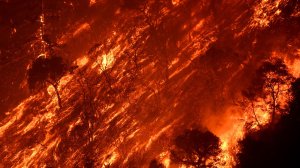 The current drought conditions, expected to last as greenhouse gases increase, will have myriad consequences on the state.
"In a century or so, we might see a retreat of forest lands, and an expansion of sagebrush, grasslands and deserts," MacDonald said in the release. "We would expect temperatures to get higher, and rainfall and snowfall would decrease. Fire activity could increase, and lakes would get shallower, with some becoming marshy or drying up."
The drought has already been blamed for a number of problems in the state, including a longer fire season. A recent report by the U.S. Department of the Interior cited unrelenting drought and rising global temperatures as contributing factors.
Los Angeles area fire officials also blamed the ongoing statewide drought for worsening conditions that led to "extreme" fire behavior, which hampered firefighter efforts during the destructive Sand Fire in the Santa Clarita area earlier this year.