This is an archived article and the information in the article may be outdated. Please look at the time stamp on the story to see when it was last updated.
Actor Michael Jace, who is perhaps best known for having played a Los Angeles police detective in the FX television series "The Shield," was arrested by LAPD early Tuesday after his wife was found shot to death in the couple's home in the Hyde Park area of Los Angeles, authorities said.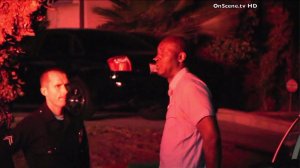 Officers responded to the 5400 block of Brynhurst Avenue (map) around 8:30 p.m. Monday night after receiving a report of shots fired, according to Detective Sal LaBarbera with the Los Angeles Police Department.
When they arrived, officers discovered that Jace's wife April, 40, had been shot multiple times, LaBarbera said.
Jace, 51, was outside the home when police got to the scene. He was initially detained and then arrested around 2:15 a.m., according to LaBarbera.
Police said Jace shot his wife and then called 911 and allegedly admitted to the shooting.
He reportedly stayed on the phone with the 911 operator until officers arrived.
The couple's two children, both boys under the age of 10, were inside when the shooting occurred, he added. It was not immediately clear whether they actually witnessed the shooting.
The boys were not injured and were staying with relatives, according to LaBarbera.
"It's just so very unfortunate that a domestic incident like this occurs, we have two young children that lost their mom, and now their dad is in jail," he said.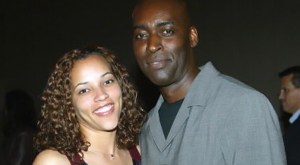 Jace has been booked at the LAPD's 77th Street Station and was being held on $1 million bail, according to Los Angeles County inmate records.
An investigation into the circumstances surrounding the shooting was underway, but police believed the motive was "domestic violence," according to a news release from LAPD.
Jace has appeared in a number of television shows and movies, including "Southland," "Planet of the Apes" and "Forrest Gump," according to IMDb.
KTLA's Jennifer Gould contributed to this report.