This is an archived article and the information in the article may be outdated. Please look at the time stamp on the story to see when it was last updated.
The mother of a 1-year-old baby left unconscious after choking on some food last week gave an emotional thank you to the Los Angeles County Sheriff's Department deputies who saved the baby girl's life during a Thursday news conference.
"I just know that if it wasn't for them, the outcome could've been very different for us," said Kiah Moten, the mother of 1-year-old Faith. "So for the rest of our days, we are going to be grateful that they were able to come and assist us and save our daughter's life."
On Saturday night, baby Faith was eating some tortellini pasta for dinner when she began choking at the family's Carson home. Her father tried waking up Kiah, who then called 911 around 9:30 p.m. and tried doing the Heimlich maneuver on the baby as she remained on the line with the operator.
But she struggled to get Faith to respond and soon the child appeared "lifeless" as she wasn't breathing, her mother told reporters.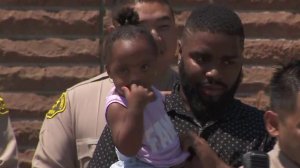 Meanwhile, authorities were already on their way. When L.A. County Sheriff's deputies Melvin Castro and Omar Sanchez approached the the 2100 block of Grace Avenue, Faith's father was standing in the middle of the street and frantically waving them down, Castro said.
As the deputies up to the home, Moten immediately ran outside.
"As I saw the lights outside, I just ran outside and handed my daughter to Officer Castro," she said, her voice beginning to choke. "I remember seeing him run down the driveway and my daughter's body was just like a rag doll and I remember them just driving off."
Castro, as a training officer to trainee Sanchez, made the decision to take the child to the hospital directly. He feared it would be too late if they waited for paramedics.
"She wasn't breathing. Her eyes were wide open …  She just lay lifeless, limp," Castro said in a news release from the department.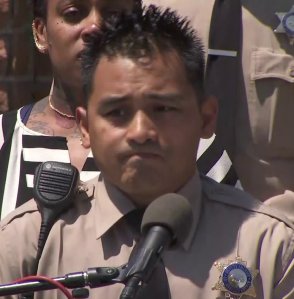 "Every second counts for the kid, so I just made that split-second decision and told my partner that we're gonna transport her to the hospital ourselves," Castro told reporters on Thursday.
As the deputies radioed others in the area, asking them to clear the streets, they rushed the unconscious baby girl to Harbor-UCLA Medical Center, a roughly 2-mile drive away. It was the first time Sanchez had ever driven a patrol vehicle.
He said Castro handed him the keys and told him to take the wheel. Meanwhile, Castro sat in the front passenger seat and continued delivering CPR to girl.
"I just knew I had to drive," Sanchez said. "I was nervous but I just wanted to get there as fast as possible and in the safest manner."
Just as they were approaching the hospital, Faith began gasping for air, according to authorities. She was taken to the intensive care unit after being revived and treated.
Once Faith's parents arrived to the hospital, however, they were still not aware of her condition.
"At this point, I really wasn't sure," Moten said. "Because holding her, I knew she wasn't breathing. So I wasn't sure if she was even gonna make it."
But soon after, she said, the deputies told her Faith had started breathing again.
Moten later said she named her daughter Faith because the baby was diagnosed with down syndrome and she hoped such a name would be a source of strength.
"I needed her name to be something strong. That she knew no matter what, no matter what anybody said — doctors or anybody — you have to have faith. We definitely do, and I'm so glad."
During the Thursday news conference, Castro, a 12-year veteran of the department and father of two, said he was relieved to see Faith looks healthy and well.
"They really saved my daughter's life and our whole family is grateful," Moten said. "We truly thank them from the bottom of our hearts."