This is an archived article and the information in the article may be outdated. Please look at the time stamp on the story to see when it was last updated.
Authorities in Costa Mesa were hoping Monday that someone will recognize the thief who was caught on surveillance video stealing a $3,000 bicycle from the garage of a man who was spending his birthday at Children`s Hospital donating blood.
Devin Foreman, 22, has suffered a series of medical issues over the past several years and used his bike as a form of physical and emotional therapy, he told KTLA on Monday.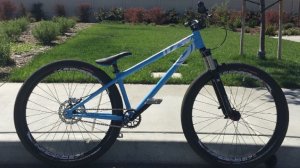 On a GoFundMe page, Foreman's father said his son has been crushed by the loss.
The bike is described as a sky-blue Deity dirt-jumper.
The GoFundMe page was set up to help spread the word about the theft and raise money in case the bike isn't returned.