This is an archived article and the information in the article may be outdated. Please look at the time stamp on the story to see when it was last updated.
The owner of a drone store in Studio City says burglars escaped with thousands of dollars worth of cash and merchandise after breaking into his shop early Wednesday morning.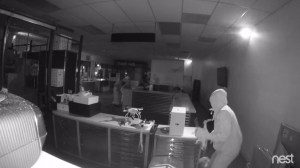 The burglary, which was captured on surveillance video, took place about 3 a.m. at the "Drone Plus" store in the 11300 block of Ventura Boulevard (map), according to Lt. B. Toledo with the Los Angeles Police Department.
The burglars apparently broke the front window of the store during the incident, Toledo said.
Five people are seen on surveillance video as they enter the store and begin to grab drones and other merchandise off the counters.
Alarms can be heard as the burglars continue to rummage through the store for more than a minute.
A witness who heard the alarm flagged down officers, but not until the burglars had already made their getaway.
The burglars took about $10,000 worth of cameras, cash and drones, the store owner said.
KTLA's Crystal Garcia contributed to this report.