This is an archived article and the information in the article may be outdated. Please look at the time stamp on the story to see when it was last updated.
A third in a series of winter storms has started to move through Southern California Sunday, bringing heavy rains, strong winds and prompting evacuation orders in at least three burn areas, the National Weather Service reported.
The storm could be the strongest to hit the Southern California since 2010, with Los Angeles County coastal and valley areas getting between 2 and 4 inches of rain, and the foothills up to 6 inches, the Los Angeles Times reported.
Long Beach Airport saw an all-time daily record rainfall of 3.87 inches, while Los Angeles Airport and Camarillo also saw record rainfall — 2.78 inches and 2.61 inches, respectively, according to NWS.
The rain was expected to linger and snow showers will continue on Monday, but drier, milder conditions are in the forecast starting Wednesday, according to the weather service.
The Sepulveda Basin was closed Sunday afternoon because of flooding, according to the Los Angeles Police Department. Weather conditions also closed the 405 Freeway at Burbank, the 110 Freeway near Torrance, the 710 Freeway near Pacific Coast Highway and numerous streets including the Sepulveda Tunnel near LAX, Victory Boulevard and Woodley Avenue, Hayvenhurst Avenue and Burbank Boulevard, Burbank Boulevard east of Balboa Boulevard, Topanga Canyon Road and Hasley Canyon Road at Del Valle.
A flash flood watch was in effect starting at 8 a.m. into the afternoon in all of Ventura County, the weather service reported. Periods of intense rain with rainfall rates of one to one and a half inches of rain are possible. Flash flooding and/or mud and debris flow are a concern, especially in recent burn areas of the county.
The Camarillo Springs neighborhood, which was ravaged by a wildfire in 2013, was placed under voluntary evacuation until 6 p.m. Sunday.
The watch will also be in effect in the coastal and valley areas of Los Angeles County, according to the weather service.
Officials on Saturday issued evacuation notices for more than 100 homes in Santa Clarita near the burn area of last year's Sand Fire. An evacuation center is set up at Canyon High School, 19300 Nadal St.
The Castaic Animal Shelter, 31044 Charlie Canyon Rd., is available for people who have had to leave their homes with their pets.
Heavy rainfall is expected to wash large amounts of mud and debris in the area from Sand Canyon Road to Placerita Canyon Road and up to Iron Canyon Road, officials said.
Hector Canino, who lives in Santa Clarita, told KTLA he had about 3 feet of mud on his property and pool because of the rainstorm.
He said a reservoir above a canyon near his home "broke loose" earlier this weekend and mud came down the street instead of the river, flooding the area.
"It came totally across our property," Canino said. He and his family have been working to clean up the mess since then. "It's devastating, we have over 100 fishes dead in our pond."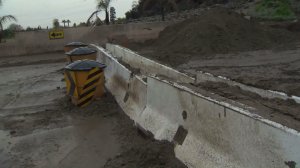 Homes in the Fish Fire burn area in Duarte were also under mandatory evacuation starting at 7 a.m. Sunday. Rain pounded the area Friday and Saturday, causing mud to flow in the streets.
An evacuation center is set up at 1600 Huntington Drive in the city, where residents can also take their pets.
The following roads in Duarte, where officials have set up checkpoints for residents were closed Sunday: Royal Oaks Drive and Greenbank Avenue, Bettyhill Avenue and Conata Street, Royal Oaks Drive and Melcanyon Road, eastbound and westbound Fish Canyon Road at Melcanyon Road, Mountaincrest Road and Deerlane Drive, and Brookridge Road and Tannencrest Drive.
Authorities encourage residents to follow evacuation orders for their safety. Residents who decided to leave their home will not be able to return until the evacuations ordered are lifted. Those who decide to stay home during the rains in areas where flooding is a concern are encouraged to find the highest and safest place in their home.
Strong winds are also a concern. The strongest gusts expected in the mountains and foothills of the Antelope Valley, where gusts between 60 and 80 mph are forecasted.
As of 9 p.m., power was knocked out for a total of 13,410 Southern California Edison customers in Los Angeles and Orange counties — 6,146 in Los Angeles and 7,264 in Orange, the company said. Power was expected to be restored in most areas by early morning Sunday.
A high wind warning remains in effect until 7 p.m. Sunday in the mountains of Santa Barbara, Ventura and Los Angeles counties.
Snow levels are expected to decrease to 5,000 feet during the storm, with snow accumulation estimated at about 5 feet in Los Angeles County area mountains, according to the weather service.
Along the ocean, large surf is expected through Tuesday, bringing concerns of coastal flooding in some areas.
Los Angeles County health officials issued a beach use advisory Sunday through at least Wednesday because of rain runoff concern.
Experts ask residents to use caution when visiting local beaches because bacteria, debris, trash and other hazards from streets and mountain areas are likely to enter ocean water during heavy rainfall.
"Swimmers and surfers are advised to stay away from discharge sites," officials said in a news release Sunday. "There is the possibility bacterium or chemicals from debris and trash could contaminate the water near and around discharge sites, and individuals who enter the water in these areas could become ill."
Viewer Matt Thompson shared this video of a woman's car getting washed away in floodwaters near Placerita Canyon in Santa Clarita pic.twitter.com/LGy1VjEJmn

— KTLA (@KTLA) January 23, 2017
Major flooding in Santa Ana (Warner Ave). #cawx pic.twitter.com/jVPcyqxpSt

— Santa Ana/OC Weather (@SNAweather) January 22, 2017
Sparse crowds during heavy rain at #Disneyland #LARain pic.twitter.com/YZ6wukuZZk

— Ron Lin (@ronlin) January 22, 2017
Mudflow picking up in Duarte as rainfall intensifies pic.twitter.com/N5rTwXMQbI

— Jeff Nguyen (@jeffnguyen) January 23, 2017
#Malibu creek @CAStateParks normally dry road. Do NOT cross flowing water. @LACoFireAirOps @LACo_FD @LACo_FD @KNX1070 @TheMalibuTimes pic.twitter.com/aYTnOttlCt

— Malibu Search Rescue (@MalibuSAR) January 23, 2017
https://twitter.com/RachelHawatmeh/status/823308840737214464