This is an archived article and the information in the article may be outdated. Please look at the time stamp on the story to see when it was last updated.
Los Angeles has joined a number of other U.S. cities in suing opioid manufacturers and distributors over the drugs' role in rising overdose deaths, City Attorney Mike Feuer said Thursday.
In 2016 alone, Los Angeles saw 327 opioid-related deaths — a number that's higher than the homicide rate, Mayor Eric Garcetti said, speaking alongside Feuer during a news conference.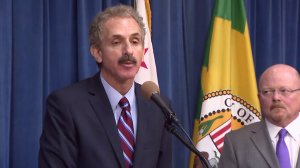 Filed on Thursday, the lawsuit names nine companies who Feuer said are part of a "web of involvement" that downplays the opioids' addictive qualities to lead the medical community and individual patients to embrace the drugs.
This has been done through "deceptive marketing" and the companies' failure to report "suspicious sales" to authorities in a timely manner, Feuer said. The goal of the litigation is to put a stop to those issues and have the drug companies take "countermeasures" to deal with the addiction crisis as well as pay monetary damages.
One of the companies being sued, Purdue, said it would stop its problematic marketing of Oxycontin, Feuer said.
But the company is not legally obligated to do anything and neither are any other drugmakers or distributors.
"It's all voluntary. There's no court order that prescribes what they must do," Feuer said. "That needs to change."
L.A. is just the latest city to sue drugmakers and distributors over the opioid crisis.
From Chicago to New York, dozens of cities have joined in filing similar lawsuits. U.S. District Judge Dan Polster in Cleveland, Ohio, has now been tasked with consolidating more than 350 such suits from across the country, Bloomberg reports.
"We've not been hit as hard as West Virginia or Ohio but Los Angeles has not been spared the effects of this epidemic," Feuer told reporters.
Naming popular opioids such as oxycodone, fentanyl and hydrocodone, he said such drugs are "all too often prescribed, all too addictive."
At least two thirds of all drug overdose deaths in the U.S. in 2016 were from opioids, according to the Centers for Disease Control and Prevention. The federal agency states the epidemic "is spreading geographically and increasing across demographic groups."
The highest death rates from synthetic opioids are in the states of New Hampshire, West Virginia and Massachusetts, according to the CDC. In some states, the number of overdose deaths doubled between 2015 and 2016.
Los Angeles has been dealing with its own effects of the epidemic, as Garcetti said 4.6 million prescriptions were written in 2016 alone while the county has just 10 million people.
Between 2009 and 2016, the number of babies in Los Angeles born with opioid withdrawal symptoms has increased 80 percent, public officials said.
"This is a killer on our streets," Garcetti said.