This is an archived article and the information in the article may be outdated. Please look at the time stamp on the story to see when it was last updated.
A trauma surgeon treating victims injured in a shooting Tuesday at the YouTube headquarters in California made pointed comments about gun violence.
"To think that after we've seen Las Vegas, Parkland, the Pulse nightclub shooting, that we would see an end to this, but we have not," said Dr. Andre Campbell, an attending trauma surgeon at Zuckerberg San Francisco General Hospital and Trauma Center.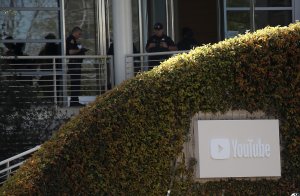 Three people suffered gunshot wounds in the shooting on the campus in San Bruno, California, south of San Francisco, according to San Bruno Police Chief Ed Barberini. One person injured her ankle, Barberini said. The female shooter died from an apparent self-inflicted gunshot wound, the chief said.
Campbell said gun violence is a problem in the United States that needs to be addressed. He also chided the media for not paying attention to other instances of gun violence.
"Gun violence happens every day throughout the United States. It happens here in San Francisco. It happens in the Bay Area. It happens all over the country," Campbell said. "But I don't see you guys out here, because I'd like to make sure that people know that we got a serious problem that we need to address."
"I don't have all the answers … at least we're having a discussion about it nationally," he said. "This is a real problem."
Hospital spokesman Brent Andrew said a 32-year-old woman was in serious condition, a 27-year-old woman was in fair condition and a 36-year-old man was in critical condition.
Campbell said the patients suffered multiple injuries and were not in surgery at the moment.
"This is a terrible day in the United States," Campbell said.
Campbell said once again, the hospital — the only level 1 trauma center in San Francisco — was confronted with a mass casualty. The hospital dealt with a mass casualty situation in each of the past two weeks, Campbell said.
He didn't see television cameras there then, said Campbell, a professor of surgery at the University of California, San Francisco, School of Medicine.
"That's the problem, when something like this happens, which is terribly unfortunate, then you guys come out," Campbell said. "The reality is we have to deal with this all the time. We have to deal with the families, the injuries, we have to deal with this constantly."
Emergency medical providers generally define a mass casualty as an incident in which the number of casualties exceeds the resources available to deal with them.
The patients were awake and aware of what happened, Campbell said.
When asked if they said anything when they arrived at the hospital, Campbell said: "No, other than shocked like we are … every time these terrible things happen."