This is an archived article and the information in the article may be outdated. Please look at the time stamp on the story to see when it was last updated.
Southern California residents were being warned to expect a large sonic boom Sunday evening as SpaceX launched a Falcon 9 rocket from Vandenberg Air Force Base before successfully executing its first-ever landing on the West Coast, according to the company and military officials.
The launch was scheduled for shortly after 7:20 p.m., Vandenberg Air Force base officials said in an advisory. The rocket carried the Argentinian SOACOM 1A radar mapping satellite.
Those near the base, which is near Lompoc, were able to see quite a show as the first stage of the Falcon 9 rocket burned its rocket engines to come to a gentle landing back at the air force base.
"During the landing attempt, residents from Santa Barbara, Ventura and San Luis Obispo counties may hear one or more sonic booms," according to the advisory issued prior to the launch. "A sonic boom is the sound associated with the shock waves from an aircraft or vehicle traveling faster than the speed of sound. Sonic booms generate a sound similar to an explosion or a clap of thunder."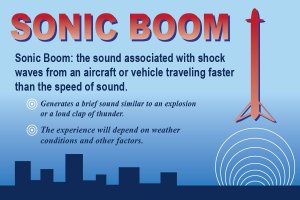 It was SpaceX's first time trying to land one of its reusable rockets on the West Coast. Prior landings have taken place on the East Coast.
Before the launch, SpaceX CEO Elon Musk took to Twitter to warn Californians what was in store for them.
"Sonic boom warning. This won't be subtle," he wrote.
The loudness of the boom depends on the weather and other conditions, officials added.
Sonic boom warning. This won't be subtle.https://t.co/WY7dn6BBY1

— Elon Musk (@elonmusk) October 6, 2018
SpaceX's West Coast landing zone pic.twitter.com/OykcwiOg18

— SpaceX (@SpaceX) October 6, 2018
Falcon 9 and SAOCOM 1A are vertical on SpaceX's launch pad at Vandenberg AFB. Following today's launch at 7:21 p.m. PDT, SpaceX will attempt to land Falcon 9's first stage on Landing Zone 4. Webcast starts ~15 minutes before liftoff → https://t.co/gtC39uBC7z pic.twitter.com/vkE1lkXrEb

— SpaceX (@SpaceX) October 7, 2018
Nope, definitely not aliens.

What you're looking at is the first launch and landing of the @SpaceX Falcon 9 rocket on the West Coast. The rocket took off from Vandenberg Air Force Base at 7:21 p.m. and landed safely back on Earth. 🚀 pic.twitter.com/8AKjGptpps

— Mayor Eric Garcetti (@MayorOfLA) October 8, 2018
Did you catch the #SpaceX launch? We did — it was definitely spectacular to watch. pic.twitter.com/MjCrOvMjy9

— LAPD HQ (@LAPDHQ) October 8, 2018
I just nearly had a heart attack watching the SpaceX rocket separate from its booster right above the LA skyline pic.twitter.com/rr55BMx1eh

— Eric Zassenhaus (@ezass) October 8, 2018