This is an archived article and the information in the article may be outdated. Please look at the time stamp on the story to see when it was last updated.
The massive Thomas Fire, now considered the largest wildfire in modern California history, inched up to 70 percent containment by Saturday evening — a 2 percent rise from the night before.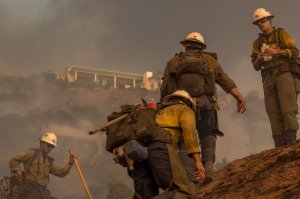 Fire officials initially said the blaze was 78 percent contained, but on Sunday morning, they said that incorrect estimate was given due to a "typo" in a news release. The actual containment is 70 percent.
The wildfire has burned just over 427 square miles, the same size it was Friday night when it broke the record for being the largest wildfire statewide since Cal Fire started keeping records in 1932. Tearing across Santa Barbara and Ventura counties for the past few weeks, the massive fire has been linked to two deaths, including a Cal Fire engineer from the San Diego area named Cory Iverson. More than 2,000 people paid tribute to him at his funeral on Saturday.
With over 1,000 structures destroyed, residents across two counties have lost entire homes after thousands faced mandatory evacuations. Schools shut their doors for weeks as air quality reached "unhealthy" levels when blankets of smoke were swept by winds into surrounding communities.
In an update issued Saturday evening, fire officials said the blaze was being fought on National Forest System lands and away from the coastal urban enclaves it once plowed through. But the ongoing firefighting efforts will still be assisted by Cal Fire, officials said.
Officials warned that residents in Ventura and Santa Barbara counties could see an increase in wildlife, as these animals may be displaced from the forested areas where what's left of the blaze is still burning. People who see such wildlife should keep a safe distance, not feed the animals and "contact their local animal control office if a threat is perceived," officials said.
The Thomas Fire broke out just as a number of other wildfires roared in neighboring counties earlier this month, such as the Creek Fire in Los Angeles County which also triggered evacuations and left a trail of destruction. Firefighting efforts against the multiple blazes were complicated by strong and lasting Santa Ana winds and low humidity — a mix of conditions one National Weather Service official called a "recipe for explosive fire growth."
A red flag warning issued at the beginning of December, around the time some of the devastating wildfires were just starting, became the longest-running such warning in Southern California since the National Weather Service started tracking them in 2004.