This is an archived article and the information in the article may be outdated. Please look at the time stamp on the story to see when it was last updated.
[protected-iframe id="c9010c5823ef3f6a144ff3b71ca93adf-41641936-49434793″ info="http://new.livestream.com/accounts/9262780/events/3189705/player?width=560&height=315&autoPlay=true&mute=false" width="560″ height="315″ frameborder="0″ scrolling="no" video=1]
A wildfire is burning out of control in several cities of Ventura County, promoting thousands of evacuations, causing hazardous road conditions and causing widespread power outages.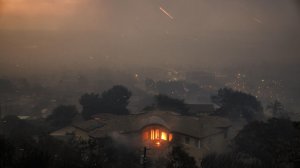 The fast-moving Thomas Fire has charred about 50,000 acres as of 9 a.m. Tuesday and is being pushed by gusty Santa Ana winds. The blaze started about 6:30 p.m. Monday north of Santa Paula and has made its way into the city of Ventura and toward Highway 33 in Ojai, according to the Ventura County Fire Department.
Latest updates: wind-driven Thomas Fire grows to 45,500 Acres; 150 structures destroyed
At least 150 structures have been destroyed and many continue to be threatened. The Los Angeles Times reported that more than 7,700 homes were under the evacuation order. Aerial and ground video showed several homes burning in Ventura.
A mansion on fire on Island View Drive in Ventura. #ThomasFire pic.twitter.com/03Cy3wxXdH

— Marcus Yam 火 (@yamphoto) December 5, 2017
Here is a full list of evacuations, shelters, road closures and power outages.
Evacuations are in place for 27,000 people, including those living in the following areas:
-Say Road north to Thomas Aquinas, Dickenson Ranch Road east to Santa Paula Creek
-Monte Vista Street north to city limits, Foothill Road from Steckel to Peck Road to north of city limits
-North of Foothill Road from Peck Road to Wells Road; includes Wheeler Canyon, Aliso Canyon and Rancho Vista
-Teloma east to Brent Street, Telegraph Road north to north of Foothill Road
-Victoria Road east to Hill Road, Telegraph Road north to Foothill Road
-North Ashwood Avenue east to Hill Road, Telegraph Road north to Foothill Road
-North of Foothill Road from Wells Road to Poli Street
-North of Main Street from Seward Avenue to Highwy 33 (includes entire Ventura Avenue area)
-Boundary of Highway 33, Creek Road and Hermosa Road
-Entire Community of Casitas Springs
-Carne Road east to McAndrew Road, Reeves Road north to Thacher Road
-Highway 150 from Dennison Grade east to Osborne Road and all residences north
-Ventura County North Coast Area
-La Conchita
Here's a list of voluntary evacuations:
-South of Loma Vista, east of Day Road, West of Victoria Avenue and north of Telegraph Road
– East of Victoria north of Loma Vista South of Foothill west of Wells Road
-All residents of the Ojai Valley not currently covered under the current mandatory evacuation
– Second Street north to Fourth Street & Island View Street east to Pole Creek
– Fourth Street on the south to Pole Canyon Road, Pole Canyon Road northeast to Goodenough Road, Goodenough Road south to Fifth Street and Fifth Street southeast to Fourth Street
-Boundary of Highway 23 and the Santa Clara River south to Guiberson Road, Guiberson Road east to Torrey Road and Torrey Road north to the Santa Clara River
Most up to date fire perimeter map of the #ThomasFire posted during the a.m. operational briefing happening now! @VCFD #VCFD pic.twitter.com/0lxxgvctX4

— VCFD PIO (@VCFD_PIO) December 5, 2017
Evacuations centers:
-Evacuation centers have opened at the Miners Building of the Ventura County Fairgrounds, which includes an animal shelter for all types of animals, 10 West Harbor Boulevard in Ventura.
-Nordhoff High School, 1401 Maricopa Hwy. in Ojai
-Oxnard College gym, 4000 South Rose Ave., in Oxnard.
-Santa Paula Community Center, 530 West Main St.
-A fifth shelter — at the Veteran's Memorial Building located at 511 Second St. in Fillmore — is scheduled to open 8 a.m. Wednesday.
Road closures: 
-Highway 150 at Reeves Road on the east end of the Ojai Valley.
-Highway 150 at Stonegate in Santa Paula.
-Highway 150 at Telegraph Road in Santa Paula.
-Highway 150 at Richmond Road in Santa Paula.
-Highway 33 is closed in both directions between Casitas Springs and Canada Larga Road.
-Foothill Road at Olive, Cummings, Wells and Briggs roads in the Santa Paula and Ventura area.
-Vassar Street at Maryville Avenue in Ventura.
Power outages:
About 20,000 Southern California Edison customers remain without power in Ventura County, according to the agency. Crews worked overnight to help restore power. Edison advises residents to be prepared to be without power "for days" because of damages caused by the fire.
Residents can call Edison to report or inquire about outages at 800-611-1911 .
Customers may report or inquire about outages at 800-611-1911 and get the latest information using the SCE outages app at https://t.co/48YsLwPnMT. #CAWX #ThomasFire #LAWind

— SCE (@SCE) December 5, 2017
School closures:
-Santa Clara Elementary, 20030 East Telegraph Rd in Santa Paula
-All Ventura Unified School District
-All Hueneme Elementary School District
-All Santa Paula School Districts
-Ventura College and the Ventura College Santa Paula site are evacuated and will be closed Tuesday and Wednesday.
-Thomas Aquinas College in Santa Paula.
-All Mesa Union School District
-All Briggs School District
-All Mupu School District
-All Oxnard Elementary School District. The Oxnard School District will remain closed on Wednesday.
-All Ventura County Office of Education schools
Visit readyventuracounty.org for updates on evacuations.
#ThomasFire Wind driven smoke plume seen from Ventura Harbor at sunrise pic.twitter.com/yL2QV0hKav

— Al Seib (@AlSeibPhoto) December 5, 2017