This is an archived article and the information in the article may be outdated. Please look at the time stamp on the story to see when it was last updated.
A Cal Fire engineer from the agency's San Diego division has died in the Thomas Fire, which has burned 249,500 acres — about 390 square miles —  in Ventura and Santa Barbara counties on Thursday, officials said.
The blaze, which was 35 percent contained as of Thursday evening, has cost more than $82 million so far, according to authorities.
"I am very saddened to report that a firefighter fatality has occurred on the Thomas Incident," Chief Ken Pimlott said in a news release Thursday afternoon.
Related: Officials Report Death of Firefighter Battling Thomas Fire
The engineer, 32-year-old Cory Iverson of Cal Fire's San Diego unit, was killed battling the fire's east flank alongside his strike team in Fillmore, officials said.
New evacuations were issued for the Fillmore area on Thursday afternoon and expanded later in the evening.
The Fillmore-area evacuations are for the area bounded by the Sespe Creek on the west, Burson Ranch to the east, the Los Padres National Forest boundary to the north, and city limits to the south.
An advisory has been issued for areas from Second Street north on Island View, west on Fourth Street to A Street, north to Goodenough Road and north to Levee.
The Thomas Fire is now the fourth largest wildfire in California history as it continues singeing hillsides and homes across Ventura and Santa Barbara counties for an 11th day on Thursday.
The fire has demolished around 972 buildings, making it the eighth most destructive wildfire in the state's history, according to Cal Fire.
Cal Fire's data does not include fires prior to 1932, when record keeping was less reliable.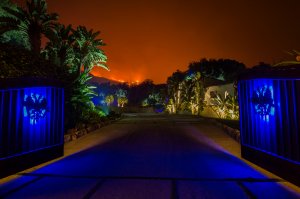 The Santa Ana winds that had allowed the flames to swiftly spread to a massive scale have been lingering around since the blaze broke out last Monday, Dec. 4, making the flames difficult to combat. A red flag warning issued by the National Weather Service (NWS) — meaning fire danger is extreme — is in place through 10 a.m. Friday in the mountainous areas of Los Angeles and Ventura counties and the Santa Clarita Valley.
The harsh winds have been compacted by low humidity, dry weather and chaparral and steep, hilly terrain. There is little hope of rain before the end of the year, according to NWS.
Around 18,000 structures were still under threat Thursday, forcing 41,200 to evacuate in Santa Barbara County, where the fire has been more active over the past few days after spreading north from Ventura County. Some evacuation orders remain active in Ventura County, as well.
Of the buildings razed, 733 have been homes. Another 175 homes and 18 commercial structures have been damaged.
Despite the continuing threat, only 10 buildings have been destroyed in Santa Barbara County so far, county officials said. It was unclear how many of them were homes.
On Thursday, firefighters were concentrating on protecting homes and minimizing the flames' spread northwest into Carpinteria, Summerland and Montecito. Crews would push the progress toward areas that had already been burned in the recent Jesusita and Tea fires.
The battle was still active in Ventura County as well, where firefighters were working to put out spot fires on the blaze's southeastern perimeter. The Ventura County Sheriff's Office was warning Fillmore residents that embers were kicking up in the area once again on Thursday morning.
Conditions remain hazardous in areas still under evacuation orders, officials said, and utility companies are working to ensure their damaged infrastructure will not create further dangers.
More than 8,300 crew members were on the fire lines Thursday.
For more information, visit CountyofSB.org. or ReadyVenturaCounty.org.
[googlemaps https://www.google.com/maps/d/embed?mid=1ASoCEnK1yHaI2Of55E92EXF69JdFdIp-&w=640&h=480]
[googlemaps https://www.google.com/maps/d/embed?mid=1CePU2TdEh86nmBDBfPOAXf8Hp7NlpVpA&w=640&h=480]
12/14 #ThomasFire progression map. Follow fire info @inciweb → https://t.co/2CKU53ZN1s & @CAL_FIRE → https://t.co/rVnShyC2A8 pic.twitter.com/GSjJ6CgORn

— Bureau of Land Management California (@BLMca) December 14, 2017
#RedFlagWarnings in effect across Southern CA extending up into the central part of the state due to low humidity and gusty winds. With no chance of precipitation forecasted fire danger remains high. #SantaAnaWinds in Southern CA will provide challenges. https://t.co/3Or0ygzF3r pic.twitter.com/fNSQpSpHvk

— CAL FIRE (@CAL_FIRE) December 14, 2017
How can this be? No precipitation over most of CA while the majority of North America gets wet in the next two weeks. This accumulated total from the GFS model shows little hope of rain through Dec. 30. Hope this changes! #CAwx #LAWeather pic.twitter.com/n7mFQrDs4h

— NWS Los Angeles (@NWSLosAngeles) December 14, 2017
#ThomasFire-Five engines and 2 Dozers from the Santa Barbara County Fire Dept are in the process of clearing a fire break and laying 10 THOUSAND feet of hose across a canyon from atop Camino Cielo down to Gibraltar to make a stand should the fire move that direction. pic.twitter.com/4hRkTLx5HA

— SBCFireInfo (@EliasonMike) December 14, 2017
#RedFlagWarnings in effect for Ventura and most of LA Counties today. Take a look at the temperature/humidity change at Camarillo when #SantaAnaWinds reached the Oxnard Plain between 8-9am. Temp near 80 and single digit humidity in just a few minutes. #CAwx #ThomasFire pic.twitter.com/2lEBd84kKY

— NWS Los Angeles (@NWSLosAngeles) December 14, 2017