This is an archived article and the information in the article may be outdated. Please look at the time stamp on the story to see when it was last updated.
This is a developing wildfire story. Please check back frequently for updates.
The Thomas Fire, which continues burning in Ventura County and is moving toward Santa Barbara, has increased to 115,000 acres, or about 180 square miles, officials announced Thursday evening.
The blaze, which began in Santa Paula area on Monday, is 5 percent contained.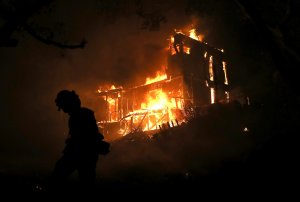 Nearly 440 structures have been destroyed in the fire, officials estimated, but explained that the number is preliminary.
In Ventura, 427 structures were destroyed, while 85 were damaged. In unincorporated areas of the county, 12 structures were destroyed.
Thousands of residents throughout the county remain evacuated, though officials are in the planning stages of repopulating areas in Ventura.
New evacuation orders were in place in Fillmore Thursday night, as the blaze threatens homes in that area of the county.
Tim Chavez, a fire behavior analyst at Cal Fire explained that while Santa Ana conditions are expected to weaken on Friday, that can actually be more dangerous for firefighters because it is difficult to know which direction the fire is going in.
"Crews are going to (need to) be very careful on their positions when those transitions happen," Chavez said.
Santa Barbara Sheriff Bill Brown urged residents who live at the county line with Ventura, along the coast and up to Summerland to be "ready to go at a moment's notice." While there are no evacuation notices in those areas yet, Brown said the Thomas Fire still poses "an extreme danger" and is "far from being extinguished.
"It could come toward Carpinteria, and if it does, we want people to be prepared to leave immediately," the sheriff said.
Mandatory evacuation orders have been issued in Santa Barbara County: 
-Highway 192 on the south.
-Highway 150 on the east.
-Casitas Pass Road extending to East Camino Cielo.
-Eastside 150 from Rincon Hill Road to the 101 Freeway.
-Bates Road.
-Camino Carreta.
-Rincon Pt Road.
-Rincon Pt. Lane.
-Buena Fortuna.
Voluntary evacuations issued in Santa Barbara County: 
-Area bounded by Highway 101 on the south; Highway 150 on the east; Toro Canyon Road on the west and extending north to East Camino Cielo.
Mandatory evacuations in Ventura County:
-Fillmore: Hall Road on the west; Sespe Creek on the east; Highway 126 on the south, and Las Padres National Forest on the north.
Santa Paula: Say Road north to Thomas Aquinas Collage; Dickenson Ranch Road east to Santa Paula Creek; Monte Vista Street north to city limits; Foothill Road from Steckel to Peck Road to north of city limits; east of Santa Paula Creek; north of highway 126; west of Hall Road to Timber Canyon Road; North of Foothill Road from Peck Road to Wells Road including: Wheeler Canyon, Aliso Canyon and Rancho Vista.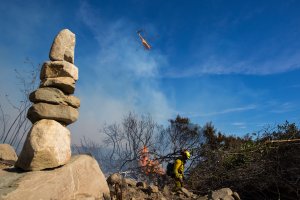 -Ventura: Teloma west to Brent Street; Telegraph Road north to north of Foothill Road; Victoria Road east to Hill Road; Telegraph Road north to Foothill Road; North Ashwood Avenue east to Hill Road; Telegraph Road north to Foothill Road; north of Foothill Road from Wells Road to Poli Street; North of Main Street from Seward Avenue to Highway 33, including the entire Ventura Avenue area.
-Oak View: Highway 33 east to Creek Road; Creek Road north to Fairview Road.
-Meiners Oaks: North of East El Roblar between Rice Road and Highway 33.
-Entire Community of Casitas Springs.
-Lake Casitas: North of Highway 150 heading to Highway 33 and south of Los Padres National Forest
-Ojai Valley: Carne Road east to Koenigstein Road, SR 150 north to Thacher Road; Casitas Pass Road east to Rice Road, Baldwin Road to North of Matilija Canyon; Highway 150 from Dennison Grade east to Osborne Road and all residences north; Highway 33 and Matilija Canyon
-North Coast area of Ventura County: Highway 33 north to Casitas Vista Road; northwest to Highway 150; Highway 150 ( or Casitas Pass Road); west to 101 Freeway and south on 101 Freeway (including Pacific Coast Highway) to Emma Wood State Beach.
Voluntary evacuations:
-Fillmore: Sespe on the west; Burson Ranch on the east, area encompassed by Sespe on the west; Fillmore City on the south; Burson Ranch on the east.
-Ventura: North Hill Road east to Wells Road; Telegraph Road to Foothill Road.
-Ojai- Casitas Pass Road east to Highway 33; Spring Street to Loma Drive (including Rice Road east to Loma Drive. Baldwin Road north to Besant Road).
Evacuation centers: 
-Ventura: Ventura County Fairgrounds: 10 West Harbor Blvd. in Ventura. The evacuation center includes an animal shelter for all types of animals.
-Ojai: Nordhoff High School, 1401 Maricopa Highway.
-Oxnard: Oxnard College gym,  4000 South Rose Ave.
-Santa Paula: Santa Paula Community Center, 530 West Main St.
-UC Santa Barbara – Santa Barbara multi activity center, 516 Ocean Road. The evacuation center includes an animal shelter for small animals,  preferably in crates.
Check for updates on evacuations, road closures and acreage on the Thomas Fire here.