This is an archived article and the information in the article may be outdated. Please look at the time stamp on the story to see when it was last updated.
Nearly six months after the Thomas Fire broke out, officials on Friday declared the largest blaze in recorded California history officially out, according to the Los Padres National Forest.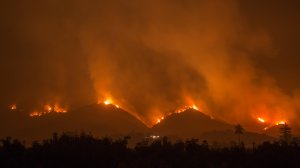 The fire broke out Dec. 4, 2017, and burned in Santa Barbara and Ventura counties.
The blaze claimed the lives of two people, including 32-year-old Cal Fire apparatus engineer Cory Iverson, destroyed more than 1,000 structures and blackened an excess of 440 square miles, a news release stated. Of the 281,893 acres burned, 181,333 were in the Los Padres National Forest, the statement read.
No hot spots have been detected within the fire perimeter for over two months; however, crews continue repairing roads, trails and fences that were damaged, according to officials.
The fire reached full containment on Jan. 12, according to Cal Fire.
Aside from the two fatalities due to the fire, 21 other people died amid fallout from the Jan. 9 storm that brought catastrophic flooding and mudslides to the wildfire-scarred Montecito area.
Forest officials plan to work with local groups, partners and stakeholders to develop a plan in order to repair trails that were damaged by the fire and storm, the news release read. Anyone who is interested in volunteering can call the Los Padres National Forest Supervisor's Office at (805) 968-6640.