This is an archived article and the information in the article may be outdated. Please look at the time stamp on the story to see when it was last updated.
California's biggest wildfire on record did not grow overnight, officials said Tuesday morning.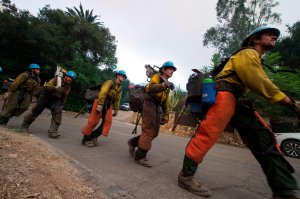 The Thomas fire burning in Ventura and Santa Barbara counties held steady at 281,620 acres and was 88% contained, the U.S. Forest Service said. The blaze, which started on Dec. 4, is the largest to burn in California since official record-keeping began in 1932.
The fire has destroyed 775 homes and damaged 208.
Firefighting efforts were aided on Christmas Day by light winds and chilly overnight temperatures, officials said. On Tuesday, fire crews continued to patrol the blaze for hot spots and also worked to shore up containment lines in effort to stop the fire from moving deeper into the Los Padres National Forest or near coastal and valley homes.
Read the full story on LATimes.com.