This is an archived article and the information in the article may be outdated. Please look at the time stamp on the story to see when it was last updated.
The Thomas Fire has burned 273,400 acres — or about 427 square miles — in Ventura and Santa Barbara counties, authorities said Friday, making it the largest wildfire recorded in California history.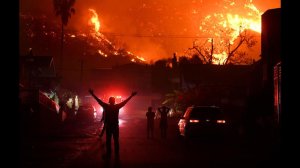 The blaze was 65 percent contained, Cal Fire said.
It has surpassed the Cedar Fire, which burned 273, 246 acres in San Diego County in 2003, according to Cal Fire records.
The Thomas Fire has cost more than $174 million and has destroyed more than 1,000 structures since it started in the foothills above Thomas Aquinas College in Santa Paula on Dec. 4, authorities reported.
The blaze has also been blamed for the deaths of two people.
Cory Iverson, a firefighter from San Diego, died Dec. 14 of thermal injuries and smoke inhalation while he was engaged in fire suppression efforts on the eastern flank of the blaze.
On Dec. 6, authorities recovered the remains of 70-year-old Santa Paula resident Virginia Pesola in a fire evacuation zone. She died of blunt force trauma with terminal smoke inhalation and thermal injuries, according to the county medical examiner.
As of Friday, all evacuations in Ventura and Santa Barbara counties have been lifted.
#ThomasFire [update] north of Santa Paula (Ventura and Santa Barbara County) is now 273,400 acres & 65% contained. Unified Command: CAL FIRE, @VCFD_PIO, @LosPadresNF, @VenturaCityFD, and Santa Barbara County Fire (@EliasonMike) https://t.co/E53h65FpCi … pic.twitter.com/XYByigjAhD

— CAL FIRE (@CAL_FIRE) December 23, 2017