This is an archived article and the information in the article may be outdated. Please look at the time stamp on the story to see when it was last updated.
A woman who was killed and a man who was injured in what appears to be a homicide and attempted suicide in a Thousand Oaks mall shooting were divorced and have two children, officials said Saturday.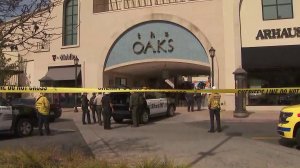 The incident was reported about 2:15 p.m. at a store called Paper Source in the open air portion of The Oaks Shopping Center, 350 W Hillcrest Dr.
Ventura County Sheriff's officials said the woman was apparently fatally shot by her ex-husband who then shot himself in the head. The woman was a 30-year-old Thousand Oaks resident who worked at the store and the man is 33 and lives in the Los Angeles area, Sgt. Eric Buschow said in a tweet.
Authorities have not released further details about the suspect and victim except that they have two children.
Authorities were not looking for additional suspects in the incident, and did not elaborate on what led up to the shooting.
Shooting at Oaks Mall appears to be case of domestic violence. The man entered the store and shot his ex-wife, then shot himself. Investigation is ongoing. The woman, who died at the scene is a 30-yr-old TO resident. The man is a 33-yr-old LA area resident. pic.twitter.com/mBcovNFONg

— Eric Buschow (@805negotiator) March 18, 2018
A gun was recovered at the scene of the shooting, Ventura County Sheriff's Office Sgt. Eric Buschow said.
The injured man was taken to a hospital by the Ventura County Fire Department.
Some visitors were seen exiting the mall Saturday afternoon, but others inside were asked to shelter in place as police did a "security sweep," Buschow said. He asked residents to be patient and for avoid the area during the investigation.
Shopper Carmelita Vazquez told KTLA she heard three or four shots ring out before people started running. She said she knew something wrong.
"Everybody was scared, people were crying, there was children," Vazquez said.
"It's just a sad thing to hear, and it's becoming so common nowadays that it's disheartening," Hanna Kessinger, a store employee, told KTLA.
Chase Dunning was shopping with his wife and baby son when he was told by a store manager that there had been a shooting and that they had to wait in the back of their store and take cover.
The indoor portions of the shopping area was reopened to the public about 4:20 p.m., sheriff's officials tweeted, but open air areas will likely remain closed until as late as Monday.
Copter 3 is on scene and assisting Thousand Oaks Patrol Units at The Oaks Mall reference a reported shooting. @toaksvcso @VCSORomanoBassi @VCSOVentura @VCFD pic.twitter.com/jjlf2PEg7e

— VenturaCoAirUnit (@VCAirUnit) March 17, 2018
Here's a video outside cheesecake factory. Cops have it surrounded with huge guns. pic.twitter.com/6Pn4pVD4DC

— Anthony ∀ Angelini (@LosAngelini) March 17, 2018
Video from outside of Thousand Oaks mall pic.twitter.com/eqZrMXPA0Z

— A. Bee (@ayybayyybae) March 17, 2018