This is an archived article and the information in the article may be outdated. Please look at the time stamp on the story to see when it was last updated.
Ian David Long began his adult life by enlisting in the Marines and getting married. Years after a divorce and a discharge and months after shouting brought a mental health expert to his door, Long killed 12 people at a country music bar outside Los Angeles.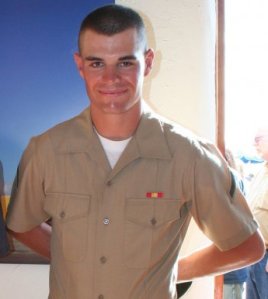 Long, 28, was a former military machine gunner who apparently killed himself after the Wednesday night attack in Thousand Oaks, the quiet suburb where he lived with his mother.
Neighbors said Thursday they would hear loud, aggressive fights between the two. Authorities said they visited that ranch-style house only once, in April, after a neighbor reported yelling and crashing sounds.
Deputies found Long "was somewhat irate, acting a little irrationally" and called in a mental health specialist, Ventura County Sheriff Geoff Dean said. That specialist assessed Long but concluded he couldn't be involuntarily committed for psychiatric observation.
"The mental health experts out there cleared him that day," Dean told reporters Thursday, though they were concerned he might be suffering from post-traumatic stress disorder because of his military service.
"Obviously he had something going on in his head that would cause him to do something like this," Dean said.
A next-door neighbor said he called authorities about six months ago when he heard loud banging and shouting at Long's home.
"I was concerned because I knew he had been in the military," neighbor Tom Hanson said Thursday, as federal and local law enforcement officers searched Long's house, where an American flag flew over the garage.
Hanson described Long as an introvert and said he was "dumbfounded" by the massacre.
Long's only other contact with authorities came after a traffic collision and after he alleged he was the victim of a violent encounter in 2015 at another bar in Thousand Oaks, the sheriff said.
Long enlisted in the Marines at 18 and was married as a 19-year-old in Honolulu in June 2009, according to military and court records.
His military service lasted nearly five years, and he was honorably discharged with the rank of corporal in 2013, the Pentagon said. He was part of the infantry, responsible for hauling and shooting machine guns.
During his service, Long's marriage fell apart. He and his wife separated in June 2011, while he was deployed on a seven-month tour in Afghanistan. The couple cited irreconcilable differences in divorce papers filed in May 2013, two months after Long left the Marines.
Later, he enrolled at nearby California State University, Northridge, last attending in 2016, the school said in a statement.
More recently he was living in a home where neighbors said they could hear frequent, aggressive shouting between Long and his mother, especially over the last year.
About 18 months ago, Don and Effie MacLeod heard "an awful argument" and what he believes was a gunshot from the Longs' property. Don MacLeod said he did not call police but avoided speaking with Ian Long.
"I told my wife, 'Just be polite to him. If he talks, just acknowledge him, don't go into conversation with him,'" Don MacLeod said Thursday.
Sparse pictures on social media showed a happy Long family. His mother, Colleen, posted Facebook photos of her son in his military uniform in 2010 and 2011.
"My Son is home, well sort of, back in Hawaii, soon to be in Cali come January, hooray!" she wrote on Dec. 14, 2012.
Another photo from 2014 shows Ian Long with his arm draped around his mother in front of Dodger Stadium. The two were wearing Dodgers T-shirts and smiles.
Authorities haven't identified what motivated Long to open fire during college night at Borderline Bar & Grill in Thousand Oaks, around 40 miles (64 kilometers) from downtown Los Angeles. The city of about 130,000 people is consistently near the top of lists ranking the safest places in California.
The dead included 11 people inside the bar and a veteran sheriff's sergeant who was the first officer through the door.
The Marine Corps said Long earned several awards, including a Combat Action Ribbon and a Marine Corps Good Conduct Medal. He was assigned to the 2nd Battalion, 3rd Marine Regiment, Third Marine Division in Kaneohe Bay, Hawaii.