This is an archived article and the information in the article may be outdated. Please look at the time stamp on the story to see when it was last updated.
As part of a "Day of Mourning and Reflection," a memorial was held Tuesday afternoon at UC Santa Barbara to remember and honor the victims of the mass killing in Isla Vista.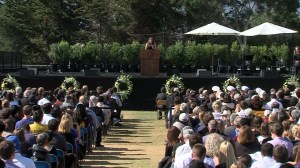 The memorial service, which was organized by students, staff and faculty at the university, got underway shortly after 4 p.m. at Harder Stadium.
About 20,000 people were in attendance, KCOY-TV reported.
Because attendance was expected to be high, no backpacks, large bags, skateboards, or bulky items would be allowed inside, according to a Facebook page for the memorial. 
A separate Facebook page said the university was creating 10,000 ribbons for the memorial to represent the "community's collective mourning, reflection, and recovery."
In addition to the memorial service, a memorial wall was also being signed Tuesday by students at Pardall Center, the university statement said.
The memorial service comes days after Friday's shooting and stabbing rampage on Friday that left six UCSB students dead and 13 others injured in the seaside college town, according to the Santa Barbara County Sheriff's Office.
The victims have been identified by the Sheriff's Office as: Veronika Weiss, 19, Katie Cooper, 22, Chris Martinez, 20, Cheng Yuan Hong, 20, George Chen, 19, and Weihan Wang, 20.
A seventh victim, alleged gunman Elliot Rodger, was a student at nearby Santa Barbara City College.
He was later found dead in his black BMW from an apparent self-inflicted gunshot wound to the head, according to Sheriff Bill Brown.
"This is a period of mourning for all of us," Chancellor Henry T. Yang said in the statement. "On Tuesday we will remember and honor the victims of this horrible event, and come together as an academic community to reflect, talk with each other, and think about the future."

University of California President Janet Napolitano has also ordered flags to be lowered to half-staff at all UC schools through June 1 to honor the memories of the six students killed.
"During this terrible time for our UC community, I ask that you join me in the belief that the process of healing and reflection we will go through in the coming days will draw us closer as a university community," Napolitano said in a statement. "Together, we will get through this."
A fund has been established to help the victims and their families.