This is an archived article and the information in the article may be outdated. Please look at the time stamp on the story to see when it was last updated.
Thousands of people were taking part in several protests in the downtown Los Angeles area Friday as Donald Trump was sworn in the nation's 45th president.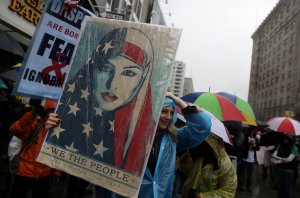 The protests came amid a downpour that was drenching participants. Many marchers carried umbrellas and wore long rain coats.
The Los Angeles Police Department warned people to be mindful of the weather, including motorists.
One protester, a teacher who carried a pink umbrella, was marching east of L.A. Live a couple of hours after Trump was sworn in. She said it was her first time protesting — "and I went to graduate school at UC Berkeley, so that's really saying something."
"I just felt like I needed to be out here and show support because this is not the same thing as any other time in history where you've had a new president," she told KTLA. "As a teacher, I feel like we're in a lot of danger here."
Another man told KTLA that his father had been put into a concentration camp before World War II.
"We need to educate Mr. Trump regarding history and not having scapegoats in the Muslims like Hitler had on the Jews," he said.
Some held signs opposed to Republicans' promised repeal of the Affordable Care Act.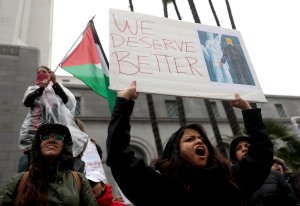 Five permits have been issued by LAPD for protests in downtown for Friday, according to the L.A. Times, which noted that police anticipate other unauthorized events springing up around the city on Inauguration Day.
In what could be the largest rally before a march ending at City Hall, more than 15,000 people RSVP'd for the "United Against Hate-Inauguration March," with another 32,000 expressing interest in attending. The event started at 11 a.m. in the area of Figueroa Street and Olympic Boulevard, and will go till 6 p.m., according to a Facebook page for the event.
Backed by a group called California for Progress, the event was described as a broad range of local organizations coming together to display unity as they protest Trump's inauguration "and the ideals he has come to embody," according to a news release.
Organizers have also called for people to skip work or school, and not do any shopping Friday.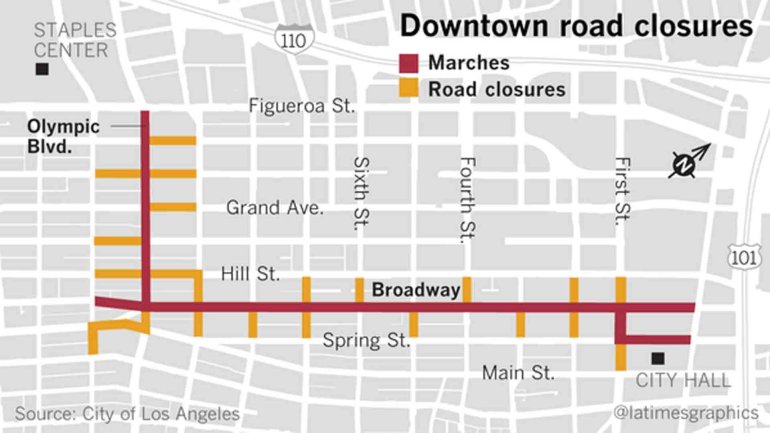 Organizations involved in the protests have included a list of demands, calling for an end to mass deportation, war and pipelines, while advocating against racism, misogyny, Islamophobia and homophobia. Among other things, they are also demanding respect for education and health care rights.
Other rallies in the area are expected to include marches that will also and at L.A. City Hall.
In Boyle Heights, a protest of Trump's inauguration was set to begin at 11 a.m. with a rally in Mariachi Plaza, according to a news release from event organizers. A march ending at City Hall was expected to follow the event.
Another protest is scheduled to start at 1 p.m. on the corner of Broadway and Olympic Boulevard in downtown. Participants will then head over to City Hall at the conclusion of the rally.
Also at 1 p.m., union members will gather on the south side of City Hall to demonstrate against Trump, according to a news release from Roofers Union Local 36, which is leading that particular protest.
Another large crowd of demonstrators is expected to convene again in downtown Saturday for the planned Women's March Los Angeles, an event that is part of another wave of post-Inauguration Day action across the country.