This is an archived article and the information in the article may be outdated. Please look at the time stamp on the story to see when it was last updated.
Clean up efforts were considered over, but thousands of small dead fish remained in the waters off of Marina del Rey on Monday morning, two days after they were first discovered.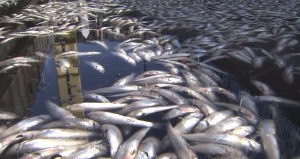 Scores of dead fish, believed to be mostly anchovies, began washing up in a corner of the marina near Bora Bora Way on Saturday night, creating a foul-smelling, silvery blanket on top of the water.
"It's horrible. There's like a million dead anchovies floating around, as well as other fish," said Lisa Lascody, a resident of the area. "It's creepy and weird."
Crews spent Sunday cleaning up, and although carcasses continued to litter the water on Monday, a supervisor with the Los Angeles County Department of Beaches and Harbors said clean up efforts were over.
The supervisor estimated that about 3,000 to 4,000 fish carcasses were removed from the harbor.
The remaining dead fish floating in the water would either get eaten or eventually be pushed out into the ocean, the supervisor added.
It was unclear why exactly the dead fish washed up in the first place, but one marine expert speculates the amount of fish could have sucked the oxygen out of the water, and that could have caused them to die.
"The currents in here… it gets trapped in here, it doesn't have a good flow. So it's possible all these anchovies came in here, then all the other fish came in here, and all of that massive load of anchovies…sucked out all of the oxygen in the water. And through that, everything died," said Eric Martin, the facility director and educational co-director of Roundhouse Aquarium, a marine studies lab in Manhattan Beach that teaches about the ocean and marine life.
The was not the first time numerous dead fish showed up dead in Southern California waters. In March 2011, millions of small fish turned up dead in King Harbor in Redondo Beach, according to the Los Angeles Times.
In that incident, it was believed that the fish used up all the oxygen after swimming into the marine en masse and eventually suffocated, the Times reported.
KTLA's Lynette Romero and Steve Kuzj contributed to this report.